Bad debts held by Spanish banks reach 169bn Euros or 10% of total loans
Wednesday, September 19th 2012 - 06:12 UTC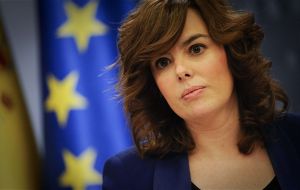 The value of bad debts held by Spain's banks in July rose to 169.3bn Euros, according to latest figures from the central bank. The Bank of Spain said 9.9% of banks' total loans were in arrears, up from 9.4% a month before.
It was the highest bad loan ratio since the central bank began compiling the data in 1962. Spain is assessing the conditions of assistance from the European Central Bank, its deputy prime minister said.
According to Bloomberg Deputy Prime Minister Soraya Saenz de Santamaria told Spanish television that a rescue may be an option, "if we get our borrowing costs to fall, so we pay less, and if we manage to do that by doing reforms and without new sacrifices".
ECB governing council member Luc Coene reiterated on Monday that Spain must "submit to [the] conditionality", before it can buy up its bonds. He warned that if it does not, "I don't think it will take long for Spanish spreads to rise".
Fears that Spain will delay asking the European Central Bank to intervene on its behalf in the bond market caused the yield, or interest rate, on the country's 10-year bonds to rise above 6% again on international markets on Tuesday, although it fell back later.
But Spain did succeed in raising 4.6bn Euros in 12- and 18-month loans on the bond markets on Tuesday, and at lower interest rates than recent auctions. The rates on the 18-month debt, for example, fell to 3% from the 3.3% it had to pay to borrow over the same time period a month earlier.
Analysts suggest an auction of longer-term debt later in the week will be a better test of confidence.
Spanish banks' bad debts have risen steadily since the property bubble burst four years ago and the country fell into recession.
Almost a quarter of Spaniards are now out of work, and many analysts believe Spain is inching closer towards seeking a full financial bailout.
The results of a final stress test on Spain's banks are due to be published on 28 September, and will provide a basis for calculations as to which banks should receive European Union funds and how much they should get. (BBC).-