Falklands' badminton team off to the Brazilian International Cup
Wednesday, September 19th 2012 - 10:03 UTC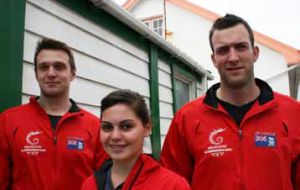 A team of four are currently emerged in a training camp preparing for competition in Sao Paulo next week.
The XXVII Brazil International Badminton Cup 2012 will be played in Sao Paulo, Brazil, from 27th to 30th September 2012. The Falkland Islands only badminton club, Stanley Badminton Club, is sending 4 players to compete. England Commonwealth Games Gold Medallist, Rebecca Pantaney, will team up with Falkland Islanders Douglas Clark, Michael Brownlee and Laura Minto.
Pantaney has been the Falkland Islands team coach since 2007 and during this time has travelled to the Falklands on 6 occasions to coach the team, the club's members and school children. She has also attended three NatWest Island Games, a Commonwealth Games and a Youth Commonwealth Games as Falklands Coach.
As part of their tournament preparations the team are currently training in Cheltenham, England. Clark explained that the team need to have a training camp before a tournament as it's "an essential tool used to improve game sharpness. We're not using it as a fitness camp, it's all about playing badminton and helping us prepare as a team. There are so few players back home that it's important to play different players."
This will be the first time a contingent of players from the Falklands has competed in the Brazil International Badminton Cup and the team are looking forward to a completely new experience and challenge. Arguably the Falkland Islands most successful badminton player, Douglas Clark explained how "it's a great opportunity for Falkland's badminton players to pioneer playing in more international tournaments and to represent the Falklands internationally. We feel we are paving the way for the next generation of Falkland Islands badminton players."
The competition will begin for Clark and Brownlee in the Men's Singles Qualification Rounds on 26th September. The main draw matches will being on 27th September and conclude with the finals on 30th September. The Falklands will compete in all five disciplines: Men's and Ladies Singles, Men's and Ladies Doubles and Mixed Doubles.
Updates will be available via MercoPress, Penguin News, Falkland Islands Radio Station and Stanley Badminton Club's Facebook page (facebook.com/Stanley.Badminton.Club) and Twitter page (@FalklandBadders).
By Roxanne King – SeAledPR - Stanley