Argentine campaign to promote domestic tourism disqualifying Mercosur options
Thursday, September 20th 2012 - 06:09 UTC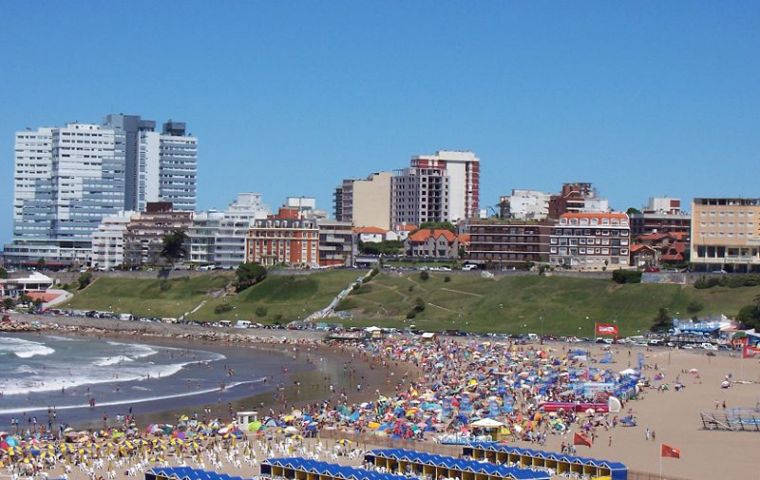 Argentina launched an aggressive campaign to boost domestic tourism this coming summer season by publishing hotel, food and rent prices of resorts along the Atlantic coast and comparing them with similar options in Mercosur partners such a Uruguay, Brazil and Chile.
The purpose of the campaign is to "reflect government policies that are positioning the Atlantic coast and other vacation options in Argentina as clear competitors to international tourism offers" reads the official communiqué from Argentina's Ministry of Tourism.
Among the many options from the campaign are the prices for the coming 2013 summer season in Mar del Plata and Villa Gesell in Argentina and compare them with other costs such as renting condos, hotel rooms, gastronomy, shopping and transport in Uruguay's international resort of Punta del Este and other seaside cities in the south of Brazil and Chile.
Obviously all the prices published in Argentine Pesos by the Ministry of Tourism are cheaper than those from their Mercosur counterparts.
For example a single room in a hotel allegedly would have a cost in the Argentine Atlantic coast ranging between 420 and 450 Argentine Pesos, while similar accommodation in Viña del Mar (Chile) is priced at 475 Pesos; in Florianopolis, Brazil, 620 and in Punta del Este (Uruguay), 1.059 Pesos.
According to the Argentine Tourism ministry, renting a two room apartment for a week has a cost of 3.000 Pesos in Mar del Plata and 3.240 in Villa Gesell, which compares favourably with the 4.900 Pesos in Punta del Este and 4.284 Pesos in Florianopolis.
Likewise a full menu at a restaurant next to the beach in Argentina would have a cost of 50 Argentine Pesos while in Punta del Este, 97 Pesos. Quick food also is cheaper in Argentina, 15 Pesos on average against 30 Pesos in Punta del Este. A 20 blocks taxi service has a cost of 16 Pesos in the Argentine Atlantic coast and 24 Pesos in Uruguay.
The Uruguayan authorities are not surprised by the campaign given the deterioration of relations with Argentina and President Cristina Fernandez administration determination to implement the dollar clamp trying to convince Argentines not to use or save money in dollars, which includes severely limiting travelling overseas.
"We are working on our own campaign and promotional prices, and will be geared not only to Argentines but Brazilians, Chileans and even Uruguayans. We are planning a heavy investment in television and other media", said Antonio Carambula, Uruguay's Deputy Tourism minister.
The manger of the Punta del Este Hotels association Rosina Grolero said that the Argentine campaign is full of errors, "not to use another word", and that there are accessible prices for similar lodgings as those offered in the Uruguayan resort.
"Hotel rates from last season have not been modified, since we had an idea of what was coming and despite the fact domestic costs have increased significantly. We're talking about this issue with the Ministry and there should be some news in the near future, hopefully before mid October when many Argentines come over in anticipation of the summer vacations", indicated Ms Grolero.
Every summer season millions of Argentines flock to Uruguayan, Brazilian and Chilean seaside resorts and their absence represents a blow the industry of any of the three countries.