Spring cyclone paralyzes Uruguay's capital as residents are told to stay at home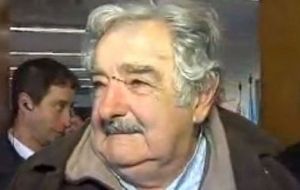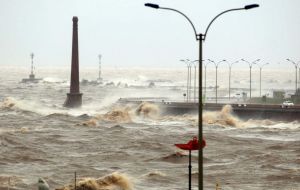 An "extra-tropical" cyclone bashed from early Wednesday the River Plate with winds of over 150 kilometres forcing the Uruguayan government to close public buildings, suspend transport and recommend residents in the capital Montevideo and other locations along the coast to remain at home.
When the "southeast" wind and rain storm which are quite normal this time of the year in the River Plate, but exceptionally of this intensity, was over early evening authorities reported two people dead, tens injured including President Jose Mujica who was caught by a flying metal piece when helping neighbours next to his farm, and millions of dollars in losses.
Windows in high rise buildings were broken spraying glass and other debris, hundreds of trees were toppled some of them crashed on homes and others fell on parked cars, including on an urban bus which called for the suspension of Montevideo's transport system while some highways and rapid traffic avenues were cut off because of flooding or the huge waves that rained across the city's coastal promenade.
Ports and airports were closed for the following 24 hours but some yachts from the main marina in Montevideo were stranded on a nearby beach and a couple sunk.
Fire brigades in the old part of Montevideo, which as a short peninsula is exposed to the full force of the wind, had to extend ropes in street corners and plazas to help people cross, when the evacuation of government buildings.
A father and son drowned when they tried to cross a bridge and water dragged them with their vehicle, and most injuries were caused by flying or falling objects as happened with President Mujica who only suffered a minor cut on the nose.
"I was extremely lucky because it was part of a zinc metal sheet from a neighbour's roof that was blown by a twister", said Mujica later meeting with the media.
But not only Mujica was lucky: this is schools' "spring week vacation" and most children were at home because even the shopping malls and other public entertainments has already been closed because of the intensity of the wind and rainfall.
The Fire Department and Police precincts received hundreds of calls requesting help or warning about toppled trees, flooded streets, fallen power lines and the collapse of other public services or the need to rescue people stranded.
At mid afternoon the Fire Department spokesperson Leandro Palomeque said "we are working at our maximum response capacity. Hopefully in a couple of hours the wind will begin to calm and the storm to abate".
Wednesday morning the Uruguayan Meteorology Office announced a red alert with 'maximum risk" and recommended people to remain at home as winds reached 150 kilometres. Government House in a press conference insisted on people staying at home and adopting some minimum precautions like staying away from windows or taping glass panes.
Meteorologist Nubel Cisneros described the storm as an 'extra-tropical' cyclone, of extreme intensity and rare, but not uncommon. In August 2005 the Uruguayan sea-line also suffered a similar low pressure front phenomenon but with wind spells of almost 200 kilometres in some places which flattened whole forests of trees.
President Mujica sent a message of support to all those who suffered damages from the storm and recalled that "whenever it rained, at some point it stopped" and the same is going to happen "with the wind blowing". After the wind is over "we have to go out to collect the wood from the trees, rebuild the blown roofs and start again".
Nevertheless Mujica said that the government hadn't considered declaring a national emergency because of the damages, but "we still have to receive the information from the rest of the country and then we will have the full picture".