Venezuela's Capriles with a fair chance of winning the "mother of all political battles"
Thursday, September 20th 2012 - 05:55 UTC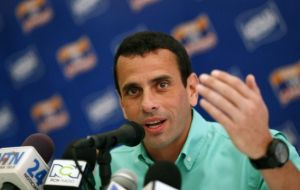 With less than three weeks for the "mother of all political battles" in Venezuela but that will have repercussions in the rest of the continent, the latest public opinion polls are indicating that opposition candidate Henrique Capriles is leading with 52% vote intention while Hugo Chavez has 48%.
The poll from Interdata was released in the media outside Venezuela, including Argentina, and shows that Capriles has a landslide support in the A and B higher social brackets (81%); in the intermediate, 53.74% while in D and E, President Chavez leads with 52% against 48%. The urban population prefers Capriles 53% and so do the young with 57.8%.
However the poll, no matter how encouraging for the opposition also indicates that there is 25% which is abstaining, and looking back into recent ballots fits with the percentage that normally remains aside as happened in 2008, 2009 and 2010.
If this reasoning is correct, and as military intelligence opinion polls which reached the hands of Chavez indicate he is trailing, next 7 October Venezuela could be putting an end to 14 years of Bolivarian revolution and voting in a new fresh, healthy, strong face, Capriles. All the attributes Chavez seems to have lost with the outbreak of his terminal disease that already has reached the head of his femur, according to veteran Nelson Bocaranda, probably the best informed and most respected journalist and political analyst in Venezuela.
Bocaranda suggests that the hyperactive very much limited in his campaigning because of the disease, in a recent statement, in tears, complaining that he could no longer walk freely in the streets and plains of his beloved Venezuela, allegedly because of his notoriety, in reality he was referring to his losing physical mobility and growing pains.
Former governor Capriles who also has an impressive record in winning elections against all odds as is the case now, but challenging a physically diminished Chavez, has promised to keep the social support programs of the revolution, but also put an end to violence, improve public services, decent jobs and above all make sure every penny of oil revenue is spent in Venezuela.
Not as has happened with Chavez, playing international politics for which he has dilapidated over 170 billion dollars, claims Capriles, who adds he will be very satisfied (and busy) as simple president of Venezuela with no need of becoming an international figure or deciding global affairs. "An end to 'assistancism'" is the rallying call.
And even when opinion polls in Latinamerica and particularly in Venezuela, those that are released are more faithful to whoever contracts them than to reality, the 'non-exposed' polls seem to coincide that Capriles has a good chance.
Furthermore Bocaranda wrote in his 'Runrunes' (rumours on target) column this week that several of the circumstantial allies of Chavez, such as China, Russia and Byelorussia have asked for the immediate repayment by Venezuela of all commitments (until January 2013) in the several projects these countries are involved (trains, housing, arms, etc).
Besides Chavez is furious because the Chinese and Russians have already established contacts with the Capriles command. China has over 40bn dollars in Venezuelan projects and Russia another 20bn and fear Capriles could redirect foreign policy.
Diplomatic sources also confirmed that during the latest meeting of Mercosur leaders, 31 July in Brazil, when Chavez finally saw his dream of full member of the group come true, the two ladies, host Dilma Rousseff and prima-dona Cristina Fernandez warned the Caribbean leader about playing with the results of the election. They would look aside to all tricks during the electoral campaign but when the results are in, there will be a winner and it could be any of the two hopefuls.
"It is a race with much hope but with no pre-arranged winner".
Any doubts about the results or joggling with ballots, will not have the support of Mercosur or from Unasur for that matter, underlined the ladies.
Thus as most political analysts now dare to say, Capriles has a fair chance, it's no longer impossible to beat Chavez. And not to say of the consequences for the rest of the continent and those countries highly dependent of Chavez open hand.