Argentine industrial production and outlook stable in August
Friday, September 21st 2012 - 06:13 UTC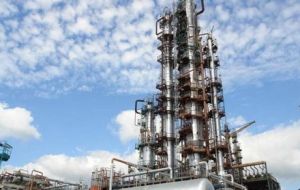 Argentina's industrial output fell 0.8% last August when compared to the same month last year, according to the country's stats office Indec. However it improved 0.7% when compared to July but dropped 1.2%, points out Indec Monthly Industrial Estimate
Basic metal industries suffered most plunging 19%, followed by chemical products, down 0.4%, mineral non metallic product, 3.9% and the auto manufacturing 5.6%.
On the positive side petroleum refining soared 15.8%, followed by food 4.4%; tobacco, 10.4%; textiles, 9.5%; paper and cardboard, 3.9%; printing, 2.5% and rubber and plastic, up 8.4%.
Regarding manufacturing performance estimate during September, 89.9% of companies anticipate a stable domestic demand rhythm while 6.5% foresee a slight increase and 3.6% have a negative view.
As to exports from the different sectors, 76.7% of companies surveyed said they estimate a stable performance in September compared to August, while 14.8% anticipate an increase in sales overseas and 8.5%, a fall.
Additionally 89.9% of companies surveyed do not expect changes in stocks of finished goods compared to the previous month, but 6.1% see a downfall and 4% an increase. As to jobs and contracting, 98% of companies do not anticipate changes in the number of staff compared to August. But 1.3% are looking to having lees employees and 0.7% will increase hiring.
Industry overall is working with fixed capacity usage of 74%.