Gibraltar sends high level delegation to UK party conferences
Saturday, September 22nd 2012 - 04:45 UTC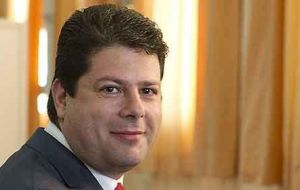 The Government of Gibraltar will have a presence at the party conferences of the three main political parties in the United Kingdom this year. The conference season opens this Sunday with the Liberal Democrat party conference which takes place in Brighton from 23rd to 26th of this month.
This year, given that the Liberal Democrats are part of the UK Government, the Gibraltar Government has taken the decision to upgrade its presence at the conference. There will be a reception hosted by the Chief Minister Fabian Picardo and a permanent Gibraltar stand which will be staffed by personnel from the Gibraltar office in London.
The Deputy Chief Minister Dr Joseph Garcia, Tourism Minister Neil Costa and Culture Minister Steven Linares will be attending the conference.
Commenting Dr Garcia said: "The opportunity will be taken to put across the Gibraltar point of view to Liberal Democrat Ministers, Members of the House of Commons, House of Lords and of the European Parliament. It is important to ensure that UK politicians, across the political spectrum, are fully briefed and informed of the latest developments".