Timerman obtains Colombian support for Malvinas claim and UK/Argentina talks
Saturday, September 22nd 2012 - 05:22 UTC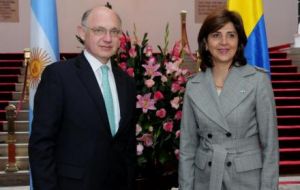 Foreign minister Hector Timerman thanked the Colombian government for supporting Argentine legitimate claims over the Malvinas Islands and for calling for a resumption of negotiation with the UK to find a peaceful solution to the South Atlantic islands dispute.
Timerman made the statement following a meeting this week with his Colombian peer Maria Angel Holguin, and was supported by a joint release following a full day of talks on the bilateral agenda.
The Argentine minister "thanked Colombian support for the legitimate rights of Argentina in the sovereignty dispute over the Malvinas, Georgia del Sur and Sandwich del Sur Islands and the adjoining maritime spaces", outlines point eight of nine-point communiqué.
Likewise the two Foreign ministers underlined "the need for Argentina and the UK to resume negotiations so as to find as soon as possible a peaceful and lasting solution to the Malvinas Islands question".
It's interesting to remember that last April during the Americas summit in Cartagena, Colombian president Juan Manuel Santos aborted attempts by President Cristina Fernandez to include a point on the Argentine Falklands/Malvinas claim in the final statement.
"The two ministers met with the purpose of strengthening cooperation and deepening political dialogue", said Colombian diplomatic sources.
"Holguin and Timerman held a very fruitful work-meeting in which they addressed different issues of the bilateral, regional and global agenda, underlining the high level of understanding and reciprocal interest in deepening and extending dialogue between the two countries", added the nine-point communiqué.
They also stated the importance of continuing to strengthen current bilateral mechanisms through cooperation in areas of special interest for both countries at technical and scientific level, and for the strengthening of cultural, educational links and collaboration in ports.
Likewise mutual support in "agro-industry; trade and investments; combating the scourge of the drugs business and judicial cooperation".
Finally it was agreed that in the first quarter of next year the two ministries will hold in Bogotá a meeting of the Political and Integration Coordination Committee to assess the results of the different technical committees and advances registered in the different cooperation areas.