Wheat prices climb as Russia comes closer to curbing exports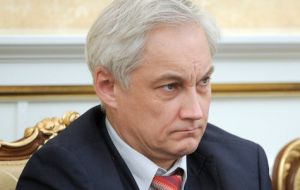 Global wheat prices climbed on Friday as Russia's economy minister raised the possibility of grain export curbs from one of the largest global suppliers in what appeared to be a policy u-turn.
Soybeans rose late, but posted their biggest weekly loss in a year. Corn edged higher, but ended with its largest weekly loss in more than three months.
Russia, which accounted for 14% of the world's wheat trade in 2011/12, may curb grain exports if domestic prices continue to rise, Economy Minister Andrei Belousov said.
"The issue of a grain exports ban is the issue of domestic grain prices dynamics. We are witnessing such a trend at the moment... With such a trend, it's quite possible, that the government will decide to restrict grain exports," he told reporters on the sidelines of a conference at the Russian Black Sea resort of Sochi.
Russia barred grain exports for almost a year in August 2010 after a severe drought which led to a wheat crop of just 41.5 million tons. This year's wheat crop is forecast to be even lower at around 38 million tons following another widespread drought.
Traders said the pace of early season exports from Russia had been unsustainable following the sharp fall in production. Russia was the world's third-largest wheat exporter in 2011-12.
"We know that with the export pace they have currently they won't be able to export for the whole season. We know they'll be doing something (to limit exports) one way or another," a French grain futures dealer said.
Any restriction on Russian exports would open the door to increased sales of European Union wheat and November milling wheat futures in Paris rose 1.75 Euros or 0.7% to 263.00 Euros a ton.
Soybean prices were higher but remained on track for steep losses on the week.
"Harvest is progressing well in the US, and there have been localised reports of better-than-expected yields and some farmer selling followed," said Jonathan Lane, trading manager at UK merchant Gleadell.
"There has also been speculation that the harvested acres figure will be revised upward by the USDA in October. But, in our opinion, the biggest factor has been a lack of new momentum and news to maintain what are historically high levels."
The market is also watching corn and soybean planting conditions in South America, where production is expected to replenish global supplies in early 2013. Any production issues in Brazil and Argentina could provide a fresh bullish momentum to the markets.
Argentina's 2012/13 corn season, which many analysts think could yield a record harvest, has got off to a good start as moist fields spur seeding, the Buenos Aires Grains Exchange said. Argentina is the world's second-biggest supplier of corn after the United States and ideal sowing conditions and high global prices have revived farmer interest in growing the grain.