Human Rights Court tells Peru to annul ruling favouring ex-president Fujimori
Tuesday, September 25th 2012 - 15:01 UTC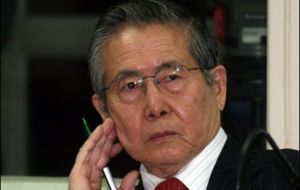 Inter-American Court of Human Rights told Peru on Monday to annul a ruling by its Supreme Court that could have paved the way for an early release of jailed former President Alberto Fujimori.
President Ollanta Humala's administration harshly criticized the Supreme Court in July for cutting the prison terms being served by members of an infamous death squad that Fujimori ran during his crackdown on leftist insurgents in the 1990s.
Supporters of Fujimori, 74, say he was unfairly sentenced to 25 years in prison for allowing the death squad, known as Colina, to operate on his watch. Fujimori's conviction by a Peruvian court in 2009 tied him to "crimes against humanity" that the Inter-American court blamed on the death squad in 2001.
But a panel of Supreme Court judges led by Justice Javier Villa Stein said in July a series of massacres carried out by Colina only amounted to less serious "human rights violations."
At the time, Humala's office promised to block the ruling while Fujimori's lawyer, Cesar Nakazaki, said it could strengthen an appeal he has been working on for his client, who is suffering from mouth cancer.
Fujimori's trial was a rare instance of a former head of state being tried in his own country for rights crimes and put Peru at the forefront in Latin American of bringing authoritarian leaders to justice.
Since then, Peru has often had a rocky relationship with the international court and Humala, a former soldier, once accused it of interfering in local affairs.
More than 69,000 people died or disappeared in the 1980s and 1990s as the Peruvian state battled Maoist Shining Path guerrillas. Fujimori is often credited for capturing the Shining Path's leaders but also has been blamed for widespread corruption and human rights violations.