Piñera signs reform bill but students insist with free and better higher education
Thursday, September 27th 2012 - 17:19 UTC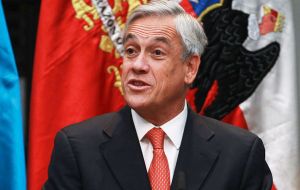 Chilean president Sebastián Piñera promulgated on Wednesday the education review bill which besides increasing funding by a billion dollars reduces from 6% to 2% the interest rate on loans for students to finance their university fees.
The measure means a 40% reduction in the monthly instalment plus other benefits such a maximum of 180 instalments, at the end of which the loan automatically is cancelled, said Piñera on signing the bill. Besides, the quota is capped at 10% of the student's salary once he graduates.
"It's a deep significant change", said Piñera compared to the previous system, Credit with State Collateral, CAE, started in 2007 so that students could finance their studies through credits granted by private banks at 6% rate.
CAE which worked with fixed instalments, no matter the salary earned or if the student was effectively working had an estimated 300.000 students deeply in debt at an average 40.000 dollars each.
Putting an end to this system which was used mainly by middle class students hoping for an education in private universities was one of the main demands from the students that since last year were demanding a deep reform of the Chilean educational system, a legacy from the dictatorship of Augusto Pinochet (1973/1990).
Nevertheless students were planning to again take to the streets of Santiago demanding that education in government's institutions should be free, an issue which President Piñera has anticipated his administration will not yield.
According to Piñera with the latest raft of measures implemented with the education reform bill, 90% of all high education students, in the region of a million, are covered with scholarships or credits to finance their studies.
In Chile only 40% of students have access to free public schooling, while this is not possible at university level, since government institutions charge fees as high as those from the private sector.