Indonesia replacing counter-insurgency fighters with Brazilian Tucanos
Friday, September 28th 2012 - 01:31 UTC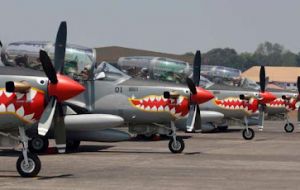 Four Brazilian manufactured A-29 Super Tucano fighter planes arrived at East Jakarta's Halim Perdanakusuma Base in the first wave of new "counter-insurgency" turboprop fighters purchased as part of the Indonesian Military's (TNI) push to modernize its fleet.
The Super Tucano, a reliable fighter known for its counter-insurgency abilities and low price, will replace the Indonesian Air Force's grounded fleet of ageing OV-10 Broncos. The Indonesian government bought two packages of eight planes each from Brazilian plane-maker Embraer for 143 million dollars per package, Air Force deputy chief of staff Air Marshall Dede Rusamsi said.
A second delivery of four Super Tucanos is expected for early next year. A second group of eight more planes will arrive some time after January 2013, he said.
The "anti-guerrilla" Super Tucano can be used for a broad range of missions, including surveillance, air-to-air combat and counter-insurgency actions, Dede said. The Air Force plans to use the planes for pilot training, he added.
Embraer is the world's third largest commercial aircraft manufacturer, behind America's Boeing and Europe's Airbus. In 2010, it sold 101 commercial aircraft and 145 executive jets.
In related news it was reported that Brazilian President Dilma Rousseff has decided to wait until mid-2013 to make a decision on a multibillion-dollar Air Force jets contract, and Boeing's chances of winning the deal have improved due to its recent alliances with local aircraft maker Embraer, according to Reuters.
The contract to overhaul Brazil's Air Force with more than 36 new fighter jets will be worth at least 4 billion dollars and is one of the most closely watched defense deals in the emerging-market world. The finalists are Boeing, France's Dassault Aviation and Sweden's Saab.
Rousseff will make the final decision on the jets, which will help mold Brazil's military and strategic alliances in coming decades as it seeks to establish itself as a major global power.
The contract is on hold in part for budget reasons, one of the officials said. Rousseff just emerged from a tough battle with public workers over wage increases, and it would be politically difficult for her to approve billions of dollars in spending for military hardware so soon after alleging that finances are tight.
"The (internal) conversations have become more specific and more focused and I think we're getting close to a decision" the official said. "But it's not going to be announced in 2012."
Last February it was reported that Rousseff was leaning toward Dassault's Rafale. However, since then new concerns have emerged about the Rafale's high cost and especially the terms of the technology-sharing that Rousseff believes are the most important factors in the deal, the officials said.
Meanwhile, Boeing has earned points by announcing a series of partnerships with Embraer, which is aggressively expanding its defense operations. Embraer said in July that Boeing will supply weapons systems for its Super Tucano fighter, and the US company is also helping develop Embraer's KC-390 military transport and refueling jet. Apparently Boeing has also frozen the price on its bid since 2009, an unusual step that is believed to have amplified the F-18's cost advantage over the Rafale.
Defense officials say Rousseff must make a decision soon because the existing Brazilian Air Force fleet is becoming increasingly obsolete and expensive to maintain. Brazil is also under pressure to increase its defense capabilities as it prepares to host the 2014 World Cup and 2016 Olympic Games.