US expands warning to consumers on ground beef components from Canada
Friday, September 28th 2012 - 17:08 UTC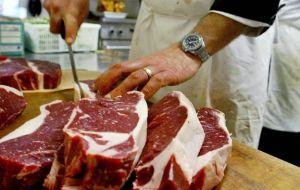 The US Department of Agriculture (USDA) expanded its warning to consumers about ground beef components imported from a Canadian company after the company's steaks were linked to eight Escherichia coli O157:H7 infections in Canada.
The USDA Food Safety and Inspection Service (FSIS) first issued an alert on Sep 20 after US inspectors on Sep 3 found E coli O157:H7 in a sample of raw boneless beef trim imported from Alberta-based XL Food Inc, which was distributed for use in ground beef to eight US states: California, Michigan, Nebraska, Oregon, Texas, Utah, Washington, and Wisconsin.
The US findings sparked an investigation by the Canadian Food Inspection Agency (CFIA) and the voluntary recall of more than 250 products. The CFIA urged Canadians not to eat certain Kirkland beef steaks sold at an Edmonton Costco store after the products were linked to several illnesses in the province.
CFIA officials said the steaks sold at the Costco store came from the XL Foods plant that was implicated in the Canadian ground beef recalls and was related to the US warning about potentially tainted beef trim, the Canadian Press (CP) reported on Friday. The steaks linked to the Canadian illnesses were mechanically tenderized, and officials aren't sure if the beef was contaminated before it was processed at Costco.
So far no E coli infections in the United States have been linked to the company's beef, and so far there are no illnesses in either country linked to ground beef made from XL Food products. Gerry Predy, MD, Alberta's senior medical health officer, told the CP that tests on samples from a package of uncooked beef found E coli that had the same genetic pattern as found in sick patients.
The FSIS said follow-up investigation found that whole-muscle beef cuts produced on the same day as the recalled beef were being used to produce raw ground materials and that a US facility was trimming sub-primal material—beef short ribs—produced on the same date for use in ground beef.
Based on information from the CFIA, the FSIS said beef from cattle slaughtered during the time frame linked to the recall was produced under unsanitary conditions that led to a "high event period" when carcasses showed an unusually high frequency of findings positive for E coli O157:H7. As a result, all non-intact products such as trim and ground beef, as well as cuts destined for non-intact products, are considered adulterated.
FSIS said it issued the public health alert to let the public know that products made from the whole-muscle cuts are considered adulterated unless they are treated to fully eliminate E coli O157:H7.