Anticipating an inflation sprint Uruguay's central bank raised benchmark rate to 9%
Saturday, September 29th 2012 - 09:16 UTC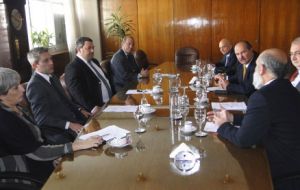 Uruguay's central bank raised its benchmark interest rate 25 basis points to 9% on Friday in a bid to cool inflation expectations. The bank had held the rate steady at its last two monthly monetary policy meetings.
The Uruguayan economy grew by 3.8% year-on-year in the three months to June, the bank said last week, slowing from an expansion rate of 4.2% in the first quarter. But inflationary pressures have increased, the policy committee said in a statement issued after Friday's decision.
"The reactivation of external inflationary pressures and sustained domestic demand oblige us to focus on internal price pressures," it said. "It is necessary to avoid a situation in which inflation threatens an economic scenario that otherwise looks healthy even in weak, uncertain and turbulent global context," the central bank added.
August inflation was 0.93%, and 7.88% in the twelve months to August and 5.39% in the first eight months of 2012. Private estimates for September anticipate a floor of 1%.
In a more detailed analysis of the global context the Uruguayan central bank affirms there are no clear signs of a US recovery or visible exits for the European economic and financial crises. In this context the bank's macroeconomic coordination committee believes international rates will continue extremely low and for a considerable time and thus financial markets will look for bonds in strong currencies for security reasons and to emerging countries for higher yields.
Commodities prices have advanced in this framework both because of the current strengthening of the US dollar and because of the North American drought which impacts on agriculture.
"Even when a slight slowing down is perceived in emerging economies, it still does not have an impact on inflationary pressures associated with food, minerals and energy prices".
Meanwhile the Uruguayan economy continues to expand at a reasonable rate, mainly considering the deceleration at international level. There is also a high utilization of production resources and domestic demand remains strong.
Faced with strong outside inflationary pressures and the sustained domestic consumption, the bank's concern is with domestic prices. Inflation must not be seen as a threat to an economic process which looks healthy despite world context.
Both the effective inflation rate as well as economic agents expectations remain notoriously above target, thus in line with a balance of economic policy objectives, the 25 basic points increase was decided.
The next meeting of the Monetary Policy Committee is scheduled for December 2012.