Film to re-edit Shackleton's odyssey and project to recover "Endurance"
Saturday, September 29th 2012 - 09:06 UTC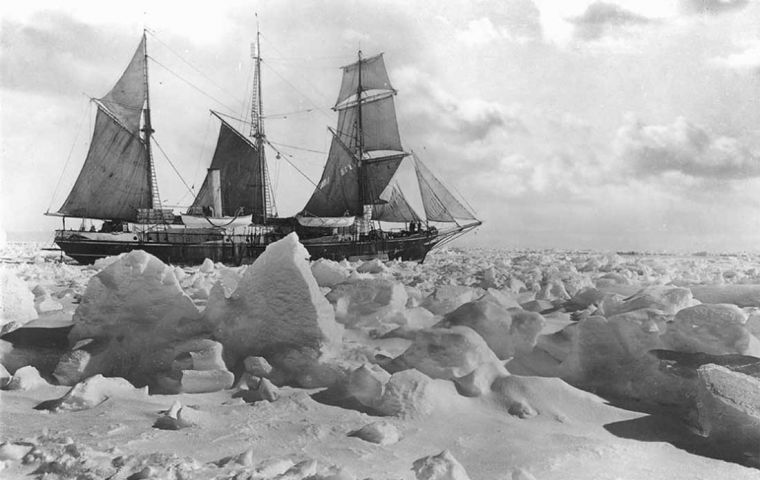 Bob Chartoff and Lynn Hendee of Chartoff Productions announce plans for "Ice", an epic action-adventure feature film based on the true story of Sir Ernest Shackleton's 1914 Endurance expedition. Shackleton's remarkable rescue of his 27 men when their ship, the Endurance, went down in the pack ice off the Antarctic coast is internationally regarded as the greatest adventure in history.
Bob Chartoff is an industry veteran known for such iconic classics as "Raging Bull", the "Rocky" series, and "The Right Stuff". The company is currently co-producing the highly anticipated "Ender's Game". Based on the classic science fiction novel by Orson Scott Card, "Ender's Game" is directed by Gavin Hood and stars Harrison Ford, Asa Butterfield, Ben Kingsley, Hailee Steinfeld, and Abigail Breslin. It will be released by Summit Entertainment in November, 2013.
"Ice" is planned for release in 2015 to coincide with the 100th anniversary of Shackleton's epic adventure. "Ice" author/producer Lori Nelson says of the Chartoff partnership, "I could not have found a better home for a passion project that has consumed me for more than 25 years, when I first sailed a 40-foot ketch to the Antarctic and encountered Shackleton's remarkable story. Chartoff has a reputation for integrity, impeccable taste, and is a leader in the Hollywood film industry."
The "Ice" feature film is just one component of The Ice Project, a multi-platform approach to the 100th Shackleton anniversary. Perhaps most ambitious of these is an expedition to locate the Endurance wreck site. To that end, Nelson is teaming with David Gallo, Director of Special Projects at the Woods Hole Oceanographic Institution. Initially, Gallo is assembling a team of deep sea exploration and Antarctic logistics experts to determine the best technologies and techniques to locate and document Endurance's final resting place on the Antarctic sea floor.
"Working on, through, and under the ice of the Weddell sea, in the harsh Antarctic environment, makes planning this expedition extremely challenging and interesting from an operational point of view." said Gallo. "We are honored to have an opportunity to add to the story of Shackleton's heroic adventure."
In addition to the feature film and media content related to the dive expedition, a grassroots campaign will raise awareness of ocean and Antarctic issues. The 'Ice Heroes' campaign will integrate entertaining and educational materials related to the film and expedition media to empower Ice Heroes to make a difference in protecting Antarctica and its oceans.
For more about the Ice Project please visit our website at www.ice-shackletonmovie.com