Facing students' challenge, Piñera presents record spending budget on education
Monday, October 1st 2012 - 09:36 UTC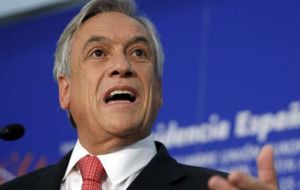 Chilean President Sebastian Piñra unveiled an education-heavy 2013 budget bill on Sunday, as he seeks to improve the conservatives' credentials before municipal elections in October and next year's presidential election.
The budget bill proposes increasing public spending by roughly 5% next year, Finance Minister Felipe Larrain said as he submitted the proposal to Congress. The measure would bring total spending to around 63 billion dollars, a record high.
Piñera is under pressure to increase spending after more than a year of massive marches over what protesters charge is a stratified, discriminatory, poor quality and costly education system.
The education demonstrations have become the greatest challenge of the Piñera administration that has been successful in helping the Chilean economy recovery higher growth rates.
"Our citizens are rightly every day more conscious of their rights and demand solutions to their problems" said Piñera, who cannot run for consecutive terms, said in a national address.
"But we can't fall for the populist cries ... Amid this world in crisis, the Chilean economy is healthy, continues to grow and generate jobs and opportunities. We have to keep advancing."
Chile, the world's largest copper producer, is seen growing around 4.7% this year, boosted by the mining industry, robust domestic demand and its forestry, salmon and wine exports.
While Chile has long been held up as an economic model in Latin America, it has the highest income inequality among OECD countries and the rate has barely fallen since 1990, according to a report by the body last year.
Billionaire Piñera is Chile's most unpopular leader since General Augusto Pinochet's dictatorship ended in 1990, although polls also show the centre-left opposition bloc, the Concertacion, as unpopular.
Piñera's Economy, Public Works and Defence ministers are seen as potential presidential candidates in next year's presidential race. The social-democrats is pinning its hopes on a comeback by popular former president Michelle Bachelet, who has not said whether she will run.
The 2013 budget puts education spending at a record-high 12.8 billion dollars, Piñera said. But the move is set to fall short in the eyes of many student groups, which are seeking a massive revamp of the system including free schooling for all.
"The education budget for 2013 increases in 1.2 billion dollars, incorporates 100% of the resources created by the tax review, grows 9.4% in real terms and reached 12.8 billion dollars, the highest investment in education in our history", underlined Piñera in national television.
"The president insists in maintaining the fallacy that parents have the right to choose (in terms of education). The ones who choose in Chile are only the ones who have money," student leader Gabriel Boric said on Twitter after the speech.
Piñera also said the bill puts a special emphasis on combating crime and drug trafficking. Congress has 60 days to approve or reject the bill.