"K" fan compares CFK with Marilyn Monroe and explains why women hate her
Tuesday, October 2nd 2012 - 06:20 UTC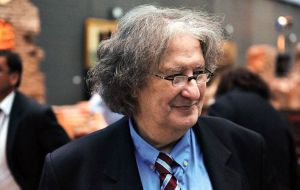 Kirchnerite philosopher and writer Jose Pablo Feinmann came out in defence of Argentine President Cristina Fernandez, CFK, with a very particular argument which even surprised supporters when he talked about onanism devotion and went as far as to compare her with US actress Marilyn Monroe.
According to the "K" militant women "hate" Cristina Fernandez because they "envy or resent her" or even possibly because they are not happy with their own lives.
"Most probably they realize they don't have her intelligence, they couldn't possibly address the UN General Assembly as she does without any notes and at the same time displaying with brilliance her thoughts", said Feinmann interviewed by a Buenos Aires broadcasting station.
"Something else that must turn on the envy of many ladies is that she is not an old woman, she's not bad looking, she's a 58-year lady but you've also seen pictures of her when she was young: a very nice Argentine brunette and nowadays she remains very attractive", added the Cristina fan.
And so interesting and attractive she is that "she could very well be the front page of some erotic magazine, --not diagrammed by mentally sick people--, but yes let's admit it by some compulsive onanist, who let us say are greatly turned on by her and end idealizing her".
According to the particular theory of Feinmann, in the case of men, "hatred" is triggered by the fact that Cristina is a woman out of their reach such would the case of actresses as Charlize Theron, Scarlett Johansson or Natalie Portman.
"For any common man it is as impossible to reach Charlize Theron, or Marilyn Monroe if she were alive, as is Cristina Fernandez, totally distant from a common man's possibilities", insisted Feinmann.
The comments of the "K" philosopher coincide with the controversy over the melting of the positive image of the Argentine president particularly following some of her rather ironic and polemic comments and chiding attitude during her recent visit to the United States and lectures at Georgetown and Harvard universities.