Brazil food giant Marfrig preparing for a long weekend of Xmas festivity
Friday, October 5th 2012 - 22:58 UTC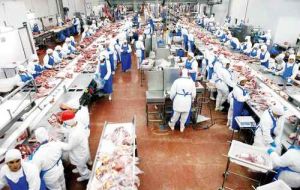 Brazil's food giant Marfrig and the second largest in beef provision, is increasing the use of its installed capacity to address the growing domestic demand according to Joao Sampaio, deputy chief Marfrig's investors relations.
"The use of our installed productive capacity has been increasing since April and we are now working with 10.000 to 12.000 head of cattle per day, which means the production capacity has risen from 75% to 80% currently" said Sampaio.
Overall annual slaughter has increased steadily and now stands at 4.18 million with the opening of three new plants.
"The domestic market is pressing on demand. This has been seen in the growth of the 'food service' of which Mafrig has a significant presence in the Brazilian market", added Sampaio in reference to demand from restaurants, fast food outlets, basically people eating out.
"The better use of our industrial capacity is due to the domestic demand since foreign markets remain balanced", said Sampaio who added that the processing sector of the company has soared to 46.8% in the second quarter of this year compared to 36.8% in the same period a year ago.
Sampaio added that prospects are most encouraging since in the fourth quarter is when Brazilians are paid their thirteenth salary, this helps boost the consumption of different meats during the Christmas and New Year festivities.
Marfrig has also benefited from the acquisition of Brasil Foods which specializes in poultry, broilers, turkeys and piglets. These are products which have great demand in special occasions "and we can supply them abundantly".
Marfrig and Brasil Foods acquisition process started at the end of last year, was approved by the anti monopoly office in May and the exchange of stock took place between June and August.
"Xmas this year is on a Tuesday, thus the big party this year begins on Friday. It's not often that this happens" underlined Sampaio.
However despite the good prospects, the increase in costs has become a challenge, since dearer grains are cutting into the profits of chicken and hog farming and could also have an impact on feed lots.
Expectations were of lower prices in the beef segment because of a greater supply to the abattoirs which could help bring prices down. But the higher priced grains are threatening the finishing process as cattle must be given extra food to compensate for the winter months and poor pastures.
"We have heard a lot of talk about lesser numbers of final fattening cattle because of the grains, but this has not yet reflected in prices", concluded Sampaio who revealed that the supply of cattle to abattoirs remains "as originally planned".