Brazil September inflation higher on food prices, but bank could further cut Selic rate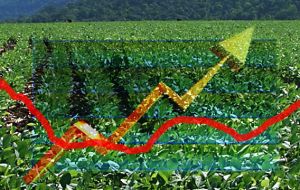 September inflation in Brazil was up 0.57% on higher food prices according to the latest release from the country's stats office, IBGE. This was the highest rate since last April (0.64%) and the steepest for September since 2003, (0.78%).
Inflation in August was 0.41%, and in the first nine months of the year, 3.77% and 5.28% in the last twelve months. The government targets annual inflation of 4.5% plus or minus 2 percentage points.
Food prices rose 1.26% in September, up from a 0.88% increase in August. Beef cost was up 2.27%, following a rise in grain prices in recent months. Food prices worldwide have climbed after a severe drought in the United States this year.
Food inflation may lose some steam in October, analysts at research firm LCA said in a note, helping headline inflation edge slightly lower to around 0.50%.
Apparel and housing prices also fuelled inflation in September, reflecting the rollout of new seasonal collections and an increase in electricity rates. Apparel costs rose 0.89%, up from 0.19% in the previous month, while housing costs gained 0.71%, up from a rise of 0.22% in August. The rise in health and personal prices slowed to 0.32% in September from 0.53% in August. Transportation prices fell 0.08% last month, following an increase of 0.06% in August.
According to the latest Focus bulletin from the Central bank, the market survey estimates annual inflation at 5.36% (the twelfth consecutive week advance). A month ago the estimate was 5.20% but for 2013 the forecast was down to 5.48% from 5.50%.
However in spite of the inflation hike market expectations tilted toward a 10th straight interest rate cut next week after a Brazilian central bank board member, Luiz Pereira, late on Thursday said the outlook for the global economy remains shaky despite stimulus by central banks in the United States and Europe.
Yields on rate futures fell sharply in early trading signalling traders expect the bank to cut the benchmark Selic rate to an all-time low of 7.25%, to give the economy a further boost despite the rising inflation.
Stimulating economic growth is one of President Dilma Rousseff's top priorities, after Brazil, Latin America's largest economy, almost slipped into recession last year. But inflation has remained above the centre of the government's target for over two years.
Brazil is expected to grow by 4% next year, more than twice as fast as this year's expected rate of 2% or less.