Decline in Canada's canola crop impacts on oilseed markets
Friday, October 5th 2012 - 22:47 UTC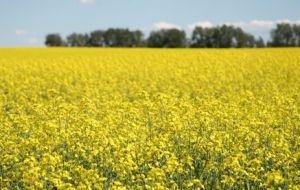 Chicago soybean futures edged higher on Friday, building on the last two sessions of gains with support from a revival in US exports and a surprise decline in estimates for Canada's canola crop.
Corn edged higher, in line with the trend in soybeans, but the market is on track to finish the week nearly flat as the record pace of the US harvest kept a lid on prices.
A weekly report from the US Department of Agriculture showed export sales of soybeans last week at 1.3 million tons, the most in three months and above trade estimates for between 800,000 and 900,000 tons.
The data showed that China, the world's top importer of soybeans and the No. 1 US market, bought the bulk of last week's exports, booking 1.03 million tons.
Statistics Canada said the canola harvest was much smaller than farmers expected and well below last year's production, which could shift some of the demand for the oilseed to US soybeans.
Canola production will be 13.36 million tons in 2012/13, down 2 million tons from the government agency's Aug. 22 estimate of 15.4 million tons and below last year's harvest of 14.5 million tons.
Chicago Board of Trade November soy rose 0.3% to $15.56 a bushel.
December corn gained three quarters of a cent to $7.57-3/4 a bushel, while December wheat added 0.3 percent to $8.71-3/4 a bushel.