Significant drop in US unemployment triggers controversy with former GE CEO
Friday, October 5th 2012 - 22:51 UTC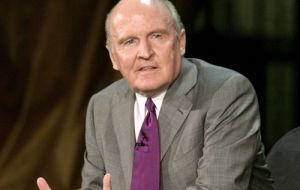 The US unemployment rate fell last month to its lowest rate since January 2009, figures from the Department of Labour have shown, surprising analysts who had been expecting a small rise.
Last month's rate came in at 7.8%, down from 8.1% in August. The latest numbers also showed that the US economy added a further 114,000 jobs in September, beating expectations.
The presidential candidates sparred over the data, which is seen as a key issue for November's elections.
Speaking at a campaign event in the state of Virginia, President Barack Obama said: "Today, I believe that as a nation we are moving forward again." Falling unemployment means "this country has come too far to turn back now", he added.
But Republican presidential nominee Mitt Romney said that an unemployment rate of 7.8% "is not what a real recovery looks like".
When joblessness was last this low, President Barack Obama was about to take office. The figures are a boost for Mr Obama whose performance was widely panned in a presidential debate with Mr Romney in Denver on Wednesday.
Jack Welch, the former CEO of General Electric, caused a stir when he appeared to suggest the figures had been massaged. He tweeted: "Unbelievable jobs numbers... these Chicago guys will do anything... can't debate so change numbers", in a reference to the Obama campaign, which is based in the Illinois city.
His message was picked up by Republicans and conservative commentators, prompting a swift reaction from Democrats.
Austan Goolsbee, an Obama economic adviser, responded directly to Mr Welch, tweeting, "Love ya Jack but here you've lost your mind".
US Labor Secretary Hilda Solis said it was "ludicrous" to think the statistics could have been manipulated. Speaking to CNBC News she said: "I'm insulted when I hear that because we have a very professional civil service."
The latest official data showed that the construction sector added 5,000 jobs last month, while the number of people working in government jobs rose by 10,000. However, the biggest gain was record in the healthcare sector, which added 44,000 jobs in September.
As well as more people finding jobs, the report showed more people were looking for employment. This contrasts with recent surveys, which showed jobless Americans giving up on the search for work.
The Labour Department also used the release of the September data to revise up how many new jobs were created in both July and August. It said that 86,000 more jobs than first calculated were added across the two months.
Separate official figures released at the end of last month revised down how much the US economy had grown between April and June.
Recent housing data has also shown some encouraging signs of recovery, analysts say. Sales of existing homes and housing construction have picked up and the main home-price index has risen consecutively for three months. Housing prices have rebounded in some areas, while mortgage rates are expected to stay at record lows.
The Federal Reserve last month said it would buy 40bn dollars of mortgage-backed debt per month until the economic outlook improves. The US GDP in the second quarter grew at an annualised rate of 1.3%, down from the previous estimate of 1.7%.