Unasur praise for the reliability and transparency of Venezuelan electoral system
Monday, October 8th 2012 - 20:17 UTC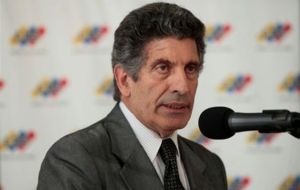 The head of the Unasur delegation sent to Venezuela to follow Sunday's electoral process, Carlos Alvarez said that the country had given the world a lesson of democracy because of its extraordinary electoral system and the attitude of the opposition, among other positive elements.
"Venezuela has given the world a very important lesson because there were important sectors of the international community that had doubts or questioned the functioning of Venezuelan democracy", said Alvarez during a press conference in Caracas.
On Sunday's election, President Hugo Chavez won for the fourth consecutive time with a 54.84% support of ballots while the opposition leader Henrique Capriles managed 44.55% according to the official results from the Electoral Council having counted 95% of votes cast.
Alvarez admitted that many members of the international community "had doubts about how elections in Venezuela were won" and described as "ill-intended those who cast doubts over the functioning of the electoral system", which he went on to describe as "excellent".
"It's an extraordinary lesson for the international community" and the fact that turnout was 80% is "a moving event" for a country were voting is not compulsory, and even more "if one looks back into history and remembers that only 25% to 30% of those registered use to vote", underlined the former Argentine Vice-president and currently secretary general of the Latinamerican Integration Agency, Aladi.
"We have witnessed a process of excellence; the National Electoral council displayed an extraordinary job, parties and candidates admitted the results and we have accumulated a great experience for the creation of a South American Electoral Council", said the head of the Unasur observers' mission. "We came across a highly reliable electoral system and of technological excellence".
Alvarez said that Unasur complied with all of its objectives and was present all over the Venezuelan territory, with forty delegates from ten different countries.
"It was a double challenge, we were one of the few organizations that came to follow the electoral process and at the same time the first such a mission was sent by Unasur. We are a technical mission, committed to transparency and the efficiency of the electoral systems of our countries", pointed out Alvarez.
"I'm leaving on Wednesday after I present my report and I will with the satisfaction of the job accomplished, and the happiness of having been witness of the Venezuelan democratic festivity and of an historic event", concluded Alvarez.