Chavez invites Capriles for a pleasant discussion and a call for national unity
Tuesday, October 9th 2012 - 06:36 UTC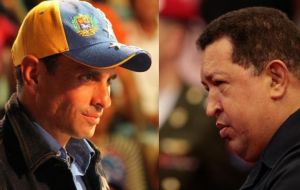 Venezuelan President Hugo Chavez said he had a pleasant meeting and discussion with the opposition candidate Enrique Capriles, whom he invited Monday evening to the presidential Palace following his re-election victory on Sunday.
"Believe me I've had a very pleasant chat with Henrique Capriles! I invited him to join the national unit effort, obviously keeping our differences" Chavez published in his twitter.
During the campaign Chavez launched a barrage of insults when referring to Capriles such as 'swine', 'mediocre' and permanently associated him with the "unpatriotic bourgeois" or with "empire financed" plots to thwart the elections and the results.
There were no immediate comments from the opposition or Capriles headquarters, but this is not the first time that Chavez in his long political career extends a hand to his rivals. But dialogue promises rapidly vanish and the president always returns to his aggressive style of attacking, diminishing or poking fun of those who dare stand up to his 'Bolivarian' revolution project.
Chavez according to Venezuela's Electoral Tribunal was re-elected by a ten-point difference which reveals how divided the country remains, and what can be expected in the next six years with Chavez health situation remaining a big question mark.
"Applause and cheers for the conversation between Chavez and Capriles. Unity will make us Venezuelans great and stronger", said Communications minister Andres Izarra in his twitter.
Meanwhile Chavez has been receiving congratulations for Sunday's victory from friends, allies and some others not in that same category.
Argentina's President Cristina Fernandez called Chavez's win a victory for all "South America and the Caribbean," while Ecuadorean President Rafael Correa, a Chavez ally, tweeted the result was a "marvellous popular triumph in Venezuela".
"Forward, comrade Chavez; all Latin America is with you and with our beloved Venezuela," Correa added.
Bolivia's President Evo Morales said it was not just a victory for the Venezuelan people but "for the Bolivarian alliance and all of Latin America."
Nicaragua's President Daniel Ortega, another ally, paid effusive tribute to Chavez for "exemplary leadership, magnificent spirit, admirable character, qualities as commander in chief of the Bolivarian revolution."
In neighbouring Colombia, President Manuel Santos congratulated the Venezuelan people on their high turnout, and his foreign ministry congratulated Chavez on his victory.
"For Colombia it will always be a priority to work with Venezuela on maintaining and strengthening relations between the two countries," the foreign ministry said in a statement.
The two countries nearly went to war several years ago over Colombian charges that Chavez was giving refuge to Colombia's leftist FARC guerrilla movement.
Brazil, the region's economic powerhouse and a rival role model to Venezuela's for lifting people out of poverty through social reforms, congratulated Venezuela on its elections.
President Dilma Rousseff praised the "exemplary democratic process" and declared herself ready to work for a "more equal" South America in Chavez' new term.
Washington was more cautious with no direct mention of Chavez. "We have our differences with President Chavez," White House spokesman Jay Carney told journalists in Washington. "But we congratulate the Venezuelan people on the high level of participation, as well as on what was a relatively peaceful election process".
"We believe that the views of the more than six million people who voted for the opposition should be taken into account going forward" said William Ostick, the State Department's spokesman for the Western hemisphere.
Washington relations with Venezuela have been frozen since the mutual withdrawal of ambassadors in 2010. Things got worse last January when the US ordered the closing of the Venezuelan consulate in Miami, following the expulsion of consult Livia Acosta Noguera.
Likewise European Union foreign policy leader Catherine Ashton echoed the US position in more cautious terms, congratulating Chavez for his re-election while also urging him "to reach out to all segments" of society.
But China, which has joined Venezuela in joint oil industry ventures, vowed to bring relations between the countries to a "new high".