Designer brands fleeing from Argentina's imports and exchange restrictions
Tuesday, October 9th 2012 - 00:03 UTC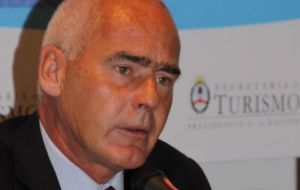 Kenzo, Louis Vuitton, Armani, Calvin Klein, Polo Ralph Lauren, Cartier are some of the designer luxury brands that have left or are leaving Argentina forced by the very strict import restrictions and money exchange controls.
With some of the most impressive avenues and elegant shopping districts, Buenos Aires, the Paris of South America, even in hard times has had customers for these sophisticated brands, but empty shelves and storefronts have knocked out all enthusiasm.
The Japanese label Kenzo is the latest to abandon Buenos Aires given Argentina's "complex economic context". Government trade restrictions kept Kenzo from importing its spring and summer clothing lines.
Kenzo thus joins a long list of top luxury brands pulling out: Armani, Yves Saint Laurent, Escada, Calvin Klein, Polo Ralph Lauren, Louis Vuitton and Cartier.
For millions of Argentines it may make little difference: the Louis Vuitton handbags President Cristina Fernandez likes to carry or Cartier jewellery would cost months wages for a typical factory worker.
But it is having its impact on the many shops of the elegant Buenos Aires district and tourist attraction that offered the designer goods and the staff that directly or indirectly ensured the luxury handbags which Cristina Fernandez will continue to purchase as she does regularly on her overseas tours to Europe or the US, the last of which to New York.
Tourism Minister Enrique Meyer's downplayed the impact of the luxury brands abandoning Argentina. He suggested the labels were overrated and said their departure would have minimal impact on Argentina's economy and the average Argentine, "it's an elite concern".
"Louis Vuitton is all over the place" Meyer told a local radio station. "On the other hand, we have brands that keep on growing." He cited Argentine labels Cardon (leather jackets, purses, and other clothing), Pampero (gaucho-style khaki pants and other sturdy clothing), El Noble Repulgue (meat pies) and Freddo (icecream).
Most of these brands have little in common with the high-end labels fleeing Argentina, which by their nature are particularly exposed to an ever-tighter combination of import and currency restrictions imposed to protect domestic producers.