Argentine security forces reject government offer and continue conflict
Wednesday, October 10th 2012 - 08:05 UTC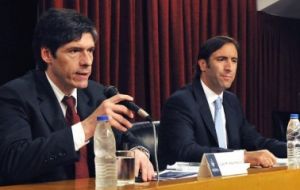 Argentina Coast and Border Guards voted on Tuesday to continue with the eight day conflict after they considered 'insufficient' the government's reply to their demands of higher salary and improved working conditions.
The government of President Cristina Fernandez has promised a reply by Tuesday to the protestors' petitions, mainly increasing the basic salary to 7.000 Pesos which was rejected, nevertheless contemplating significant increases.
"The protest remains; we're not lifting the conflict: we are calling on our comrades to leave 50% of their guard posts, we're not going to leave them unattended but 50% will be lifted", said Border Guard Raul Maza, the current spokesperson.
The Coast Guards meantime marched downtown Buenos Aires to their headquarters protesting and claiming they would not abandon the struggle until there is a formal and satisfactory reply to their petition.
At mid morning cabinet chief Juan Manuel Abal Medina and Finance minister Hernan Lorenzino in a press conference with ample support from graphics and documents explained the 'chaotic administration' of both forces which led to a situation with no homogeneous pay not even at the same rank.
"It is impossible to offer a basic 7.000 Pesos at any level of the public administration, but we can assure you that in the next pay check problems will be solved with rank and file making several times more, while only 2 to 3%, with exorbitant salaries will suffer cuts", said Abal Medina.
The Security Ministry also announced it had filed criminal charges against several Coast and Border guards' officers, heads of administrative staff and magistrates for "serious irregularities".
"The immediate effect of the new decree is a significant increase in the basic income: a starting sailor or border guard will have a basic of 2.696 Pesos instead of 626 pesos as currently, and this all they way up the scale", said Abal Medina.
The protest began last Tuesday, following the announcement of a decree that slashes the sector's salaries. After the Government admitted they had committed a mistake and was going to deposit the rest of the salaries left, the officers doubled their claims and demanded a 7.000 Pesos minimum salary.
According to Abal Medina some officers with the support from court rulings were collecting anywhere from 60.000 to 100.000 Pesos monthly (approx 20.000 US dollars) and did not even pay income tax "because they had control of the administration and the connivance of corrupt judges and other officials".
"The ministry has filed criminal charges against all those involved in these actions" said Abal Medina.