Brazil ratifies full support to President Santos and the Colombian peace process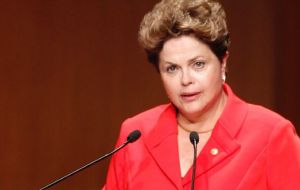 Brazil extended full support 'in whatever is necessary' to Colombia's peace process which is scheduled to begin next 17 October in Norway and will continue in Cuba, announced the Executive Planalto Palace.
In a phone call to her Colombian peer Juan Manuel Santos, President Dilma Rousseff said "Brazil offers full support in whatever is necessary" to the peace negotiations process between the Colombian government and the guerrilla group FARC.
President Rousseff was on the phone with Santos to express her satisfaction with the success of his (prostate) cancer surgery and to wish him a quick recovery, said a spokesperson from the Brazilian Executive.
Last week Santos underwent surgery for the extirpation of a minor cancer prostate tumour. After three days in hospital he returned to Palacio Nariño.
President Roussef also underwent treatment for lymphatic cancer a year before winning the 2010 elections and undergoes regular medical checkups.

Santos decision to open a peace process negotiation with the FARC has had a positive reaction in public opinion polls.
His standing was up six points in October over a month ago and has reached 80% according to the latest poll released.
On the question 'do you have a positive or negative image of President Juan Manuel Santos? 80% said positive and 17% negative. The phone poll interviewed 1.005 adults over 18, nationwide with an error margin of 3.1 percentage points and 95% reliability.
Regarding President Santos decision to open a peace process with FARC (Revolutionary Armed Forces of Colombia), 83% approved while 17% rejected the initiative.
According to the Centro Nacional de Consultoría, responsible for the opinion polls, the positive image of Santos stood at 83% in January; 78% in February; 80% in March; 75% in April; 81% in May; 71% in June; 66% in July; 67% in August; 74% in September and 80% in October.
As to President Santos decision to inform public opinion that he was suffering prostate cancer and would have to undergo surgery, 86% of interviews approved his attitude.