One in eight people worldwide suffer from chronic hunger, says FAO
Wednesday, October 10th 2012 - 09:39 UTC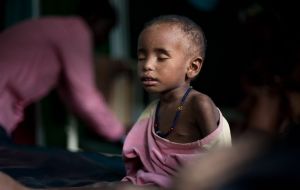 One in eight people worldwide still suffers from chronic hunger, the UN's food agency said on Tuesday, describing the figure as "unacceptable" and warning that the fight against hunger was slowing down.
"With almost 870 million people chronically undernourished in 2010-2012, the number of hungry people in the world remains unacceptably high," the Food and Agricultural Organisation (FAO) said in its 2012 report on food insecurity.
The latest figures show that 12.5% of the world's population, or one person in every eight, has yet to be relieved of chronic hunger, it said.
"We live in a world of plenty which has enough food to feed everyone. For us, the only acceptable number is zero," FAO head Jose Graziano da Silva told a press conference as the report was unveiled.
Oxfam's GROW campaign to fix the global food system lashed out at "government inaction".
"The fact that almost 870 million people, more than the population of the US, Europe and Canada, are hungry in a world which produces enough for everyone to eat is the biggest scandal of our time," Oxfam's Luca Chinotti said.
The Rome-based food agency, which compiled the report along with the World Food Programme (WFP) and International Fund for Agricultural development (IFAD), said the number of hungry was down from one billion 20 years ago.
The FAO had warned in 2009 that the number of global hungry had broken through the one billion barrier but in Tuesday's report it admitted the data had been off-target and produced fresh figures for the past two decades.
New methods for estimating hunger levels showed that progress against hunger in the past 20 years was "better than previously believed," it said.
"Most of the progress, however, was achieved before 2007-08. Since then, global progress in reducing hunger has slowed," and must rally again to meet the Millennium Development Goal of halving the world's hungry by 2015, it said.
The slowdown is due to multiple factors, including "the global economic crisis, rising food prices, the growing demand for bio-fuels, food speculation and climate change," said Jomo Sundaram, FAO assistant director-general.

The vast majority of the world's hungry -- 852 million -- live in developing countries, where hunger affects 14.9% of the population. Most sufferers live in South and East Asia and sub-Saharan Africa, the report said.