Bernanke replies to Brazil and IMF on rich countries monetary easing controversy
Monday, October 15th 2012 - 18:48 UTC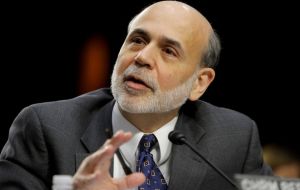 Federal Reserve chairman Ben Bernanke has defended the central bank's measures to bolster the US economy. Brazil has said US monetary easing to keep interest rates low and weaken the dollar has hurt emerging economies. And IMF chief Christine Lagarde warned on Sunday of consequent asset bubbles developing in emerging nations.
But Bernanke said that measures taken by the Fed and other central banks boosted global growth.
The Fed has maintained a low interest rate policy for several years and pledged to keep them low at least until 2015. Likewise it has pumped about 2.3 trillion dollars into the US economy to bolster growth. There have also been huge stimulus measures in Europe and Japan.
Critics say such moves, especially by the US, drive down the value of the dollar and spark capital flows into emerging nations.
Speaking in Tokyo, where the IMF and World Bank held their annual meetings, Bernanke said: "The linkage between advanced-economy monetary policies and international capital flows is looser than is sometimes asserted."
The Fed's measures not only strengthened the US recovery, he said, "but by boosting US spending and growth, it has the effect of helping to support the global economy as well".
Last Friday, Brazil's Finance minister, Guido Mantega, warned that his country would take "whatever measures it deems necessary" to fight the problem which he has described as the "currencies war".
"Emerging markets can't passively endure large and volatile capital flows and currency fluctuations caused by rich countries' policies" Mantega said in Tokyo. He added that "advanced countries cannot count on exporting their way out of the crisis at the expense of emerging-market economies".
"Currency wars will only compound the world's economic difficulties", he emphasized.
In a speech at the end of the IMF meeting, Ms Lagarde said: "We have seen several bold initiatives by major central banks certainly that the IMF highly praises and values as major contributing factors to stability."
But she acknowledged that "there are diverging views within and across countries about important issues including the management of capital flows".
Ms Lagarde said monetary easing "could strain the capacity of those economies to absorb the potentially large flows and could lead to overheating asset price bubbles" and "disagreement might be unavoidable but we must not forget that we all have a stake in global financial stability".
"Given the cross-border spill-over effect of monetary policy decisions, central banks may need to step up their international dialogue and co-operation".