China's inflation eases as growth slows; plans to further boost domestic demand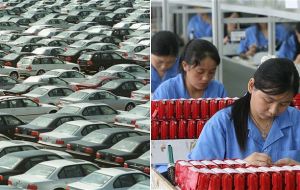 China's policymakers have been given more room to boost stimulus measures after the country's inflation rate dipped in September. Consumer prices rose 1.9% from a year earlier which is down from a rate of 2% in August.
There have been calls for Beijing to ease its monetary policy to boost domestic demand and spur growth amid a global economic slowdown. China's economic growth slowed to a three-year low in the second quarter.
China's economy has been hurt by falling demand for its exports and a slowdown in investment in the country. Demand for its exports has been hit by continuing economic problems in key markets such as the US and Europe.
Despite the fact that exports rose by 9.9% in September from a year earlier, which was more than had been expected, the export sector's growth continues to remain under pressure. As a result, China has been keen to boost its domestic consumption in a bid to rebalance its economy and sustain growth.
"This inflation picture remains supportive for further policy easing to support the growth recovery which is still the top priority for now," said Sun Junwie, an economist with HSBC in Beijing.
It has already lowered the reserve ratio requirement, the amount of money banks must keep in their reserves, three times in the past few months, in an attempt to boost lending and spur demand. It has also cut interest rates twice since June this year, to bring down the cost of borrowing for consumers and businesses.
On the investment front, Beijing has approved infrastructure projects worth more than 150bn dollars to try to spur a fresh wave of economic development.