Spain has lost a million people since January 2011 because of the recession
Monday, October 15th 2012 - 22:17 UTC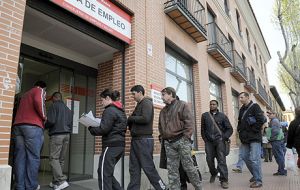 Condemned by recession, almost a million persons have left Spain since January last year according to a report from the country's National Statistics Institute, INE, which also points out that the trend has intensified in the first nine months of this year.
The report says that until October, 927.890 abandoned Spain which is in the midst of a deep recession and with sustained record-breaking unemployment of almost 25%, one out of four from the active population, and 50% in the age group 18/28 years. Of that million, 117.500 are Spaniards.
INE shows that in the first nine months of this year, 420.150 people have left Spain, which represents an increase of 37.539 over the same period a year ago.
Of that figure 55.000 are Spanish born nationals or 21.6% and the rest foreigners.
To the massive outflow must be added a considerable retraction in the number of immigrants because of the global crisis and ongoing recession in Spain.
Between January and October this year, 282.500 people migrated to Spain which represents a fall of 18.3% compared to the same period a year ago.
As a result of the intense migratory movement INE says that since the beginning of 2011, Spain has lost population which now stands at 46.117.000 compared to 47.153.000, twenty-one months ago.
At the height of the roaring years and the boom of the construction industry Spain became a magnet for millions of immigrants from Latinamerica and Eastern Europe.