ARA Libertad conflict forces the resignation of the Argentine navy chief
Tuesday, October 16th 2012 - 07:46 UTC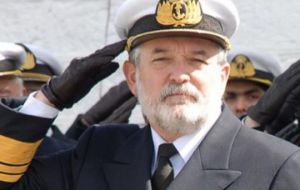 The ARA Libertad conflict retained in Ghana has a new victim: Argentina's Navy chief of staff Admiral Carlos Alberto Paz tendered his resignation and was replaced by his deputy Vice-Admiral Daniel Alberto Martin.
Admiral Paz resignation was tendered before Minister of Defence Arturo Puriceili after it was announced that two Navy officers had been relieved from their command and an investigation was opened to determine responsibilities in the decision to make the ARA Libertad frigate dock in the Tema port.
Vice-admiral Martin was designated by President Cristina Fernández and confirmed by Presidential spokesman Alfredo Scoccimarro at the Government House on Monday afternoon.
Martín was born in Quilmes, Buenos Aires province, on September 27, 1955. After studying at the Navy Lyceum "Almirante Guillermo Brown," he graduated as Midshipman at the Army and Navy Academy.
He later specialized at the Submarines School and became an expert in submarine warfare and arms. He becomes the first submariner to occupy the highest post in the Argentine navy.
During the Falklands' conflict he was part of the "Santa Fe" submarine crew that participated at the "Rosario" operation landing Argentine marines to invade the Islands on April 1982 and later supplying the occupied South Georgia base.
He was sent to the Argentine Embassy at the South African Republic in 2005 and 2006, where he worked as Defence, Naval, Army and Aeronautical Assistant.
The ARA Santa Fe was a Balao-class submarine which was lost during the Falklands conflict. Built during the Second World War, the submarine served in United States Navy as USS Catfish before being commissioned into the Argentine Navy in 1971. She served until 1982 when she was captured by the British at South Georgia after being seriously damaged and subsequently sank along a pier, with just her sail visible above the waterline. The submarine was raised, towed out of the bay and scuttled in deep waters in 1985.