Brazil insists in criticizing US monetary policy, but "we are prepared"
Tuesday, October 16th 2012 - 00:07 UTC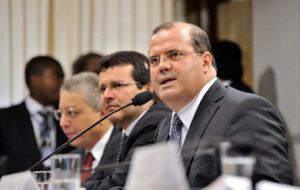 Brazil's central bank president Alexandre Tombini refuted on Monday arguments that the US expansionist monetary policy do not harm emerging countries such as Brazil.
Speaking in Tokyo to Japanese investors and after underlining the recovery of the Brazilian economy, Tombini addressed Fed chief Ben Bernanke statements on Sunday at the IMF annual assembly, in which he argued that the US stimuli measures help the world economy.
"Quantitative easing only generates an over supply of dollars and impacts directly on Brazil's macroeconomic policies" said Tombini who argued that the excessive inflow of capital to Brazil presented challenges for the financial stability of the country and makes controlling inflation far more difficult. He recalled that Brazil was forced to adopt measures to control the negative effects of excessive liquidity and affirmed that Brazil will continue to protect itself from the influx of short term capital.
"At the end of 2010 and in the first half of 2011 inflows were so great in intensity and velocity that they ended propping the growth of credit. At the time we were trying to contain inflation and that capital influx only worked against our objective. We don't want Brazil to become a market that devalues other currencies, and we are prepared for that with lower rate interests and a less strong Real", said Tombini.
The minister was the main speaker at a seminar sponsored by the Brazilian chamber of commerce in Brazil where he explained that the slowing of the Brazilian economy was part of the world crisis cycle. However he insisted that the economy would again expand in 2013 and that inflation is under control.
"The pessimist outlook for the world economy helps to keep mid-term inflation down", said Tombini adding that with the global economy growing at a slower pace than in previous decades, "pressure on commodities prices will diminish overall".
The banker said that the latest IMF growth estimates for Brazil in 2012 and 2013 did not surprise the Central bank. But he pointed out that the risks of a shock as was the bankruptcy of Lehman Brothers in 2008 are far less than they were six months ago.
Direct Japanese investments have been growing steadily for years and in 2011 reached the record figure of 7.5bn dollars.
Finally Tombini outlined the policies implemented to ensure GDP growth: lower interest rate; greater liquidity; improved finance conditions for families and companies, plus fiscal incentives.
"We are consistent with recovery" he emphasized recalling all the opportunities in infrastructure that the coming World Cup in 2014 and Olympics in 2016 represent for Japanese investors.