Uruguay passes bill that decriminalizes abortion under certain circumstances
Thursday, October 18th 2012 - 00:36 UTC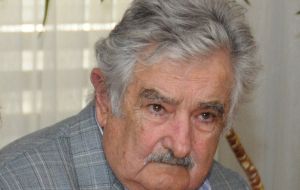 Uruguay's Congress voted narrowly to decriminalize abortion under certain circumstances, mainly during the first 12 weeks of pregnancy. The Senate voted 17 to 14 in favour of the controversial bill, which was passed by the lower house last month after 14 hours of debate. President Jose Mujica said he would sign the bill into law.
During the debate, ruling party Senator Luis Gallo said, "with this law, we are joining the ranks of developed countries that have largely adopted a stance to liberalize, recognizing the failure of criminal laws to avoid abortions."
Latin America is home to about half of the world's Roman Catholics and the Church is opposed to abortion under any circumstances. But Uruguay, a country of 3.5 million people, has a strong secular tradition, but nevertheless public opinion is clearly divided on the issue.
Uruguay's legislature passed a similar bill in 2008, approved by the same ruling coalition but then-President Tabare Vazquez, an oncologist, vetoed it on moral and medical terms. Leading opposition parties have said they will push for a referendum to overturn the new law.
A recent survey by local pollster Cifra showed 52% of Uruguayans believed abortion should be legalized, while 34% were opposed.
"There's something very wrong when the state makes it easier to abort than to adopt," opposition Senator Alfredo Solari said. "Abortion is not a medical act. It does not seek to protect and preserve...a patient's health. On the contrary, it causes irreparable harm to the embryo or foetus and hurts the pregnant woman, too."
Under current law, abortions are illegal except in a few circumstances, including cases of rape and when a woman's health is at serious risk. However it is well known that the dilatation and curettage process can be accessible to those with the right connections and funds.
Lawmakers in favour of legalizing abortion had to make concessions to muster the congressional majority needed to push through the legislation.
Under the bill Congress passed, a woman can end her pregnancy during the first 12 weeks of gestation, but she must meet with a team of health professionals, who, by law, should discourage the abortion. The woman must then reflect on the decision for five days.
"This process is complicated and legally unjustified," the non-profit Coordinating Group for Legal Abortion said in a statement. "This means there's no recognition of a woman's right to decide freely about her life and her maternity".
Some lawmakers argued that there is no certainty that the team-test will make things easier or prove efficient in such distressing situations.
The only other countries in Latin America where women can abort during normal pregnancies are Cuba and former British colony Guyana. Mexico City allows abortion in the first 12 weeks.
Uruguay was the first Latin American country to legalize civil unions for gay couples, granting them rights similar to those enjoyed by married couples on matters such as inheritance, pensions and child custody.
It also lets homosexuals serve in the armed forces and allows terminally ill patients to refuse treatment.
"This represents a new advance in terms of sexual and reproductive rights," said Senator Monica Xavier, head of the ruling Frente Amplio coalition, adding that although she did not think the bill was ideal, "this is what's possible to achieve".