Argentine military governor of the Falklands arrested for human rights violations
Friday, October 19th 2012 - 00:48 UTC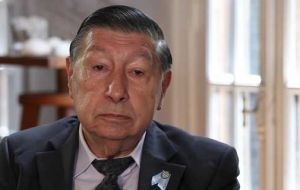 The military governor of the Falkland Islands during Argentina's brief occupation of the archipelago in 1982 was detained for his alleged role in human rights abuses at a notorious torture center in the 1970s, prosecutors said Thursday.
Former Gen. Mario Benjamin Menendez was arrested at his home in Buenos Aires on Wednesday and transferred to a federal prison in Tucuman province, 1.300 kilometers north of Argentina's capital.
The 82-year-old Menendez was briefly governor of the Falklands after Argentina occupied the Islands by force in April 1982. It subsequently lost control when British troops retook the Islands and the Argentine troops surrendered on 14 June 1982.
His arrest relates to ''La Escuelita,'' a torture center in Tucuman province that he allegedly helped run in 1975, the year before the military coup that ushered in Argentina's 1976-1983 dictatorship, the attorney general's office said Thursday. Prosecutors said he was head of the ''Tactical Command Post'' at the center.
A unit of the Marxist Cuban trained Revolutionary People's Army, ERP, operated in the mountains of Tucuman in 1974, and the civilian government in power at the time ordered a crackdown on the group. The campaign was called "Operation Independence".
Prosecutors say 1.507 suspects passed through the center between Feb. 10 and Dec. 18, 1975, part of a systematic campaign of repression against dissidents and leftists ahead of the coup.
From February to December 1975, thirty military units were involved in the operation including border guards and federal police which also helped to disband sugar industry unions and militant student organizations.
The operation was under the command of General Adel Edgardo Vilas and later by General Antonio Domingo Bussi, who died in jail in 2008 condemned for human rights abuses. But he was also a successful politician and was voted governor of Tucuman under democracy.
Besides Menendez, 21 other people have been arrested across Argentina in connection with the case. Among them is a cousin of Menendez, former Col. Jose Maria Menendez, who is under house arrest.
Another military officer arrested former Colonel Walter Saborido, was deputy governor candidate in Tucuman's last elections running for a party called La Linea which supposedly rallied all those who somehow were involved in the "Operation Independence". He owns a security company which employs 200 people.