Chilean lawmaker wants Chiloé students to learn English in the Falklands
Friday, October 19th 2012 - 01:35 UTC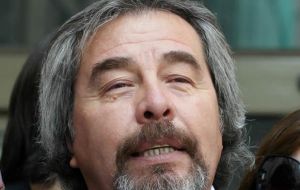 Chilean lawmaker Gabriel Ascencio is promoting a program of scholarships for students from his constituency in the south of Chile to travel to the Falkland Islands to learn English and become proficient in the language.
Christian Democrat Ascencio who represents the 58th electoral circuit in the Los Lagos Region, Chilean Patagonia and has been in Congress since he was first elected in 1993 said the plans to meet with UK ambassador Jon Benjamin to discuss the issue.
The idea of the Falklands surfaced following a tourism seminar attended by Economy Minister Pablo Longueira who revealed the government was implementing a program to send Chilean students to New Zealand, but to which very few teenagers from Chiloé would have access, pointed out Ascencio.
"One of the things the tourism operators urged on us at the conference was that people involved in tourism in Chiloé must be knowledgeable in English and undoubtedly the best way to learn the language is in some English speaking country. Thus my contact with the British ambassador with whom I will meet to talk about the issue to implement a similar program of scholarships to the Falklands for Chiloé students and let the authorities of the two Islands coordinate and agree on the plan", said Ascencio.
The Chilean lawmaker added he was hopeful the proposal would have an initial approval "so we can start working because distance and costs are an issue and for Chiloé island students is so much easier to visit the Falklands, stay for some time, learn English and come back to work in the tourism industry".
"The situation is particularly pressing not only because of the current tourism inflow but because the island of Chiloé has started to receive scheduled and charter flights", concluded Ascencio.