South Georgia plans to expand Marine Protected Areas; could affect krill fishery
Tuesday, October 23rd 2012 - 07:18 UTC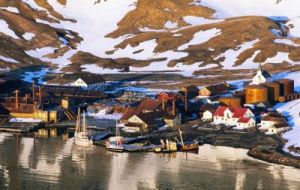 The government of South Georgia and South Sandwich Islands, GSGSSI, announced a vast Marine Protected Areas around the Island in February and it is likely there is more protection to come that could affect krill fishing and long-lining, reports the September edition of the South Georgia newsletter.
The creation of the MPA established in law much of the protection that was already in place through fisheries licensing policies and now GSGSSI are looking at further spatial and temporal protection.
A science workshop was held in Cambridge, UK, in April to discuss possible further measures. The workshop coincided with the completion of two major scientific projects, funded by the Darwin Initiative and Overseas Territories Environment Program, which investigated marine biodiversity (Darwin) and the development of Marine Protected Areas generally (OTEP).
The workshop was attended by approximately 30 scientists from a variety of organisations and included individuals with expertise in benthic fauna, nekton, plankton, oceanography, air breathing predators, and general marine ecology, and in the fisheries of the Scotia Sea.
The outcome from that meeting was a set of proposals which GSGSSI are now considering. These are set out in the document "SGSSI MPA Consultation Oct 2012.pdf" which is available from the website.
GSGSSI has prioritised proposals for spatial or temporal closures where: they will protect unique, rare, or high biodiversity areas; protect vulnerable or sensitive areas; maintain critical aspects of ecosystem function, e.g. highly productive areas; support fisheries management, e.g. create closed areas for critical life-history stages; protect multiple-use areas to coordinate activities and minimise cumulative impacts; maintain the integrity of representative examples of marine ecosystems; increase resilience to climate change or other environmental changes; and protect reference sites for scientific research.
Some of the proposals would affect the krill fishery and include summer closure of the fishery and closure of specific areas to krill fishing.
Though bottom trawling is not allowed in South Georgia waters (other than for science) there are proposals to further protect bottom living benthos including having some areas closed to long-lining.
GSGSSI are now in a public consultation phase and would welcome comments from stakeholders by November 2nd.