Believe it or not: Falklands, a nation with a comfortable budget surplus
Friday, October 26th 2012 - 07:11 UTC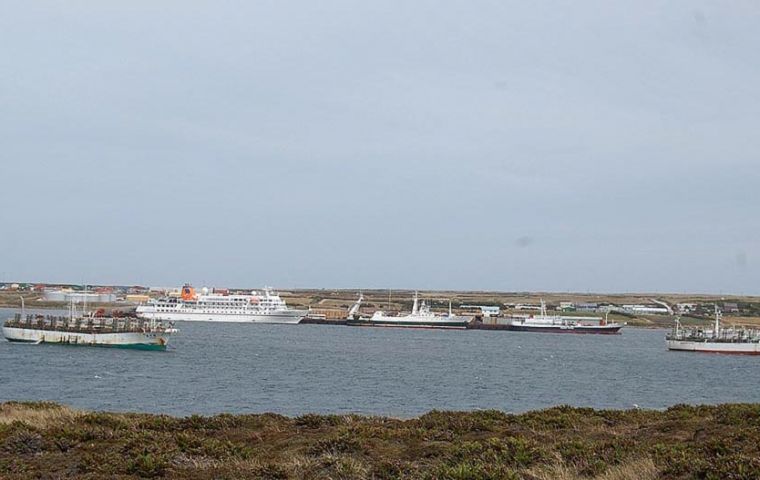 The Falkland Islands Government accounts showed a surplus of £4.297 million compared to a revised budget surplus of £2.448 million (a positive performance of £3.190 million) for the first three months of the 2012/13 financial year, according to the Financial Management Report presented this week to the Standing Finance Committee.
The Management Accountant Daniel Heath noted the figures excluded unrealised gains and losses on investments. During the first three months of the financial year net liquid assets (funds that are readily available for use) increased by £6.2 million to an estimated £125.2 million.
Under operating revenue Natural Resources were reported at £146,000 adverse due to a £190,000 shortfall in Fishing License revenue against the planned estimate. The Director of Natural Resources advised that may largely be a phasing issue and linked to repayments from the previous season made in July.
Health & Education were £196,000 favourable driven by unanticipated Medical Service Tax receipts of £197,000 mainly paid by oil industry workers.
The Public Works showed £394,000 favourable due to quarry sales being currently £201,000 ahead of plan. This was largely due to higher sales to FIG projects than had been projected, primarily Sapper Hill.
The Treasury showed £852,000 favourable with taxation revenues for the first quarter being £1.52 million above estimate. This was partially due to higher taxation receipts from oil exploration than were projected in the original budget. However corporation tax receipts from local companies were also £996,000 higher than planned.
Mr Heath said in his report that the Taxation Officer advised that, due to further oil-related revenues later in the year, income and corporation tax for 2012/13 was currently estimated to be £3.77 million favourable for the full year.
Those gains were partially offset by investment revenues being £660,000 lower than anticipated for the period for July to August.
Under operating expenditure, Health & Education were £219,000 favourable and Mineral Resources were £129,000 favourable with Executive Management at £172,000 favourable and Public Works, £133,000 adverse. Mr Heath noted the quarry was overspent by £129,000 against budget largely due to the increased labour and plant hire required to maintain the current levels of production. Likewise the Power Station was £122,000 adverse to plan primarily because of the amount of fuel being used to meet current levels of demand.
That has partially been offset by £40,000 of Repairs and Maintenance savings within the Property and Municipal and Housing, although that money was likely to be spent later in the year. There was also a £30,000 saving in the PWD/Admin salaries budget due to vacant posts.
Capital receipts were reported to be slightly less than estimated due to slower sales of land and buildings than originally projected.
Under Capital Expenditure, capital schemes were noted to be currently behind schedule by £1.671 million.
Highways Projects and Infrastructure Development were described as both currently behind schedule. However, the Director of Public Works has advised Mr Heath that progress in both these areas should accelerate later in the year and spend should be achieved.
He also noted there were no bids for the Public Toilets project and that will be re-bid in early November.
The FIG Housing contract has been awarded, however due to the nature of the agreement full spend was not anticipated to be achieved this year. (Penguin News)