Chile places 1.5bn dollar-bonds at lowest financing cost of any emerging country
Friday, October 26th 2012 - 21:15 UTC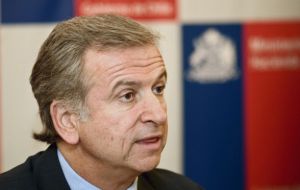 Chile placed 1.5 billion in dollar-denominated bonds on international markets at historic yields, giving the country the lowest borrowing cost of any emerging country, Finance Minister Felipe Larrain said on Thursday.

The 10-year issue was placed at a 2.38% yield while the 30-year issue at a 3.7% yield. Demand for the bond was between six and seven times the amount offered, according to Larrain.

Around 840 million garnered from the issue will go to repay debt due in January while the rest is destined for a sovereign fund abroad, thus avoiding pressuring the local Peso currency.

"The characteristics of this issue mean Chile today has the lowest financing cost of its history, the lowest cost in Latin America and the lowest financing cost among any emerging country," the minister told reporters in Santiago by phone from New York.

The world's number one copper producer Chile has long been a favorite among international investors, thanks to the country's market-friendly policy mix, robust economy and political stability. The government's issue is also seen paving the way for Chilean corporate issuers to tap debt markets.

Chile's yield compares with the 2.686% achieved by Brazil, Latam largest economy sold 1.25 billion of dollar-denominated 2023 bonds early last month.

Neighbor Bolivia returned to global credit markets for the first time in nearly a century on Monday, selling 500 million worth of 10-year bonds in a sign of investor confidence in South America's poorest nation.

The sale comes as Chile's economic growth is expected to ease to 4.8% next year, hampered by global turbulence and down slightly from an upwardly revised 5% estimate for 2012, the government said this month.

The 10 and 30-year bonds priced at 55 and 75 basis points over US Treasuries, respectively.

"Chile's sovereign ratings are supported by years of prudent fiscal management, an effective and credible monetary regime anchored by a freely floating currency, and an economic model based on competitive markets," said Fitch in a report on the bonds, which it rated 'A+'.

"These strengths counterbalance high commodity dependence, low per capita income and human development indicators that are weaker than 'A' category peers."

Chile last year placed a 1 billion bond in New York, which Larrain said at the time boasted the lowest-ever coupon paid by a Latin American issuer.