Lula da Silva's magic ensures Sao Paulo City in Sunday's municipal run-off
Friday, October 26th 2012 - 00:10 UTC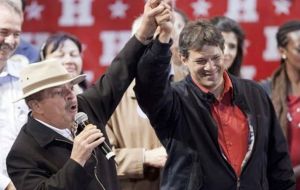 The electoral magic of former Brazilian president Lula da Silva did it again: the country's major financial and industrial hub, the city of Sao Paulo only a few weeks ago was turning its back on the ruling Workers party at the municipal elections, but is now to his feet probably with a landslide victory.
Next Sunday the run-off is between Fernando Haddad, his hand picked candidate for mayor of Brazil most populated city, and Jose Serra a former governor and mayor, and ex-presidential candidate from the party that currently has control of the city.
Further more Haddad who was a distant third only two months ago, first climbed to second best for the run off and now has a lead over Serra between 15 and 20 percentage points depending on the pollster and this happened after Lula da Silva, recovered from his throat cancer, openly started campaigning for the former Education minister in the cabinet of President Dilma Roussseff.
A Datfolha public opinion poll released this week has Lula da Silva's candidate with 60% vote intention and Serra from the Brazilian Social Democracy Party with 40%, leaving aside annulled and blank votes. A more detailed analysis shows Haddad with 49%, Serra, 34%; 6% undecided and 11% blank or annulled voters.
Another poll from Ibope has Haddad with 57% and Serra, 43%. Ibope says the difference has ranged between 13 and 16 percentage points in the last two weeks, but Haddad has never been below 49%, even when Serra recovered a few points and reached 36%.
Datafolha also confirmed the strong rejection tendency for Serra, who was presidential candidate in 2002, defeated by Lula da Silva and in 2010 by Dilma Rousseff: 52% of interviews said they would 'never vote for him".
Haddad at this stage seems unbeatable despite the "trial of the century" which found the main aides of Lula da Silva involved in corruption, money laundering, and criminal association in a case related to 2005 when Jose Dirceu ex-cabinet chief and master mind of the plan organized a major scheme of money-for-votes in Congress.
During his first mandate Lula da Silva did not have the sufficient congressional support for his legislative initiatives and Dirceu together with other top officials, publicity agents and bankers organized the 'mensalao' or monthly outlays among members of Congress.
The trial which in coming days must sentence culprits is taking place at Brazil's Supreme Court with most magistrates supporting strong convictions. Lula da Silva all along pleaded innocence arguing he was not aware of the scheme or the money involved, estimated in over 80 million dollars.
But despite attempts from the opposition and the political system to tarnish his image with the trial, Lula da Silva seems immune of such allegations to the eyes of the people: in the first round of the Sao Paulo municipal election, Serra mustered 31% of the vote and Haddad 29%. Now he is running ahead with 13/15 percentage points difference.
Likewise why was Haddad picked for mayor in Brazil's most entrepreneur city? As Education minister he implemented affirmative action in tertiary education with university quotas for Afro-descendants (half the population) and the poor (40% of Brazilians) with a million scholarships
Any bets on who's the next mayor of Sao Paulo?