US Court rules against Argentina: all bondholders must be treated equally, including hold outs
Friday, October 26th 2012 - 20:39 UTC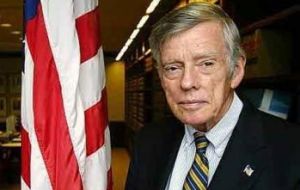 US appeals court ruled Argentina discriminated against bondholders who refused to take part in massive debt restructurings in 2005 and 2010 by deciding to pay them later than bondholders who agreed to participate.

Friday's decision by the 2nd US Circuit Court of Appeals in New York stems from Argentina's 100 billion dollars default in 2002, and could affect how easily countries trying to extricate themselves from sovereign debt crises might in the future fend off angry creditors.

A unanimous three-judge appeals court panel said that in conducting the restructurings, Argentina violated a provision in the bonds that required it to treat bondholders equally, even if they chose to hold out.

It said US District Judge Thomas Griesa in Manhattan correctly issued injunctions in February requiring equal treatment for holdouts, including NML Capital Ltd and the Aurelius Capital Management funds that hold 1.4 billion dollars of defaulted debt.

Argentina claimed that upholding Griesa's rulings would undermine its debt agreements, trigger a new financial crisis in the republic and make it impossible for countries including Greece and Spain to restructure their debt in the future.

"Nothing in the record supports Argentina's blanket assertion that the injunctions will plunge the Republic into a new financial and economic crisis," Circuit Judge Barrington Parker wrote for the panel agreeing with Judge Griesa that with more than 40 billion dollars in foreign reserves, Argentina has the ability to pay the holdouts

"We hold that Argentina breached its promise," the appellate court said, summarizing a 29-page ruling that could make it difficult for Argentina to use the US financial system unless it complies.

Argentine bonds of all kinds sank after the ruling, especially debt paid in dollars, increasing borrowing costs for the country's national and provincial governments that are already much higher than other countries', since the country's existing debt is rated far below investment-grade.

Griesa said any financial institution that processes Argentina's payments to the holders of restructured bonds must ensure that the holdouts are paid an equal amount to avoid violating the court's order. Effectively, this would force US banks to stop the payments unless Argentina proves it's complying with the ruling.

The appeals court sent the case back to Griesa's court to clarify how a payment formula set by the judge is intended to work and to determine how the orders apply to intermediary banks and other third parties.

NML Capital Ltd. is the investment fund that impounded the Argentine Navy training frigate ARA Libertad which remains retained in Ghana. The parent company of NML is billionaire Paul Singer's Elliott Capital Management

The case is NML Capital Ltd. v. Republic of Argentina, 12-00105, US Court of Appeals for the Second Circuit (Manhattan).