US economy beats forecasts and expands on stronger consumer spending
Friday, October 26th 2012 - 21:33 UTC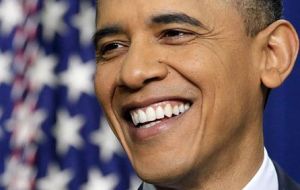 The economy expanded more than forecast in the third quarter, paced by a pickup in consumer spending, a rebound in government outlays and gains in residential construction. GDP rose 2% annual rate after climbing 1.3% in the prior quarter, Commerce Department figures showed on Friday.
A housing rebound is helping mend Americans' finances and confidence, indicating the pickup in demand for expensive items such as automobiles can be sustained. The data is likely to play a role in the upcoming election, allowing President Barack Obama to say the economy is heading in the right direction, while challenger Mitt Romney may argue growth is not fast enough.
The rate of growth would have been stronger if not for the drought that affected crops in the Midwest. A drop in farm inventories subtracted 0.4 percentage point from third-quarter GDP after cutting 0.2 point in the prior period, the report showed.
Consumer purchases, the biggest share of the economy, grew at a 2% annual rate, up from a 1.5% second-quarter gain. Retail sales in September and August had the best back-to- back showing since late 2010 as shoppers snapped up goods from cars to Apple's iPhones. Cars and light trucks sold at a 14.9 million annual pace in September, the strongest since March 2008, according to Ward's Automotive Group. Chrysler Group and General Motors reported gains.
Record-low mortgage rates are stoking demand for housing, another area of the economy that's improving. Firming home prices and a drop in joblessness may further boost Americans' confidence and spending.
Residential construction increased at a 14.4% rate, up from an 8.5% gain in the prior period, Friday's report showed. The pickup in homebuilding added 0.3 percentage point to third-quarter GDP, in line with the average contribution during the first half of 2012. Americans bought new homes in September at the fastest pace in two years, Commerce Department figures showed two days ago. Demand was up 27.1% from a year ago.
At the same time, consumers' purchasing power eased in the third quarter, with disposable income adjusted for inflation rising at a 0.8% annual rate from July through September, the least since the end of 2011, after a 3.1% gain in the second quarter, Friday's report showed. The saving rate fell to 3.7% from 4%.
Spending by the federal government also rebounded, led by a jump in defence outlays. It grew at a 9.6% rate, the most since the second quarter of 2010. Total public expenditures climbed at a 3.7% pace the most in three years.