Argentina and Iran meet in Geneva to discuss 1994 deadly bombing in Buenos Aires
Monday, October 29th 2012 - 13:00 UTC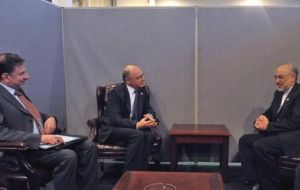 Argentine and Iranian representatives are meeting in Geneva on Monday to discuss a 1994 bombing of a Jewish aid association in Buenos Aires that killed 85 people and injured 300 others, the Argentine Foreign Ministry said Sunday.
"It is a working meeting on the AMIA case under terms agreed during a meeting of foreign ministers September 27 in New York," the ministry said in a statement, referring to the acronym for the Israelite-Argentine Mutual Aid association.
At their meeting on the sidelines of the UN General Assembly, Argentine Foreign Minister Hector Timerman and his Iranian counterpart, Ali Akbar Salehi, had agreed to continue the dialogue over the attack until they reach a "mutually agreed upon solution."
Timerman at the time said the follow-up talks were to "explore a legal mechanism" for resolving the matter "not in contradiction with the legal systems of Argentina and Iran".
The Argentine government and courts insist there is an 'Iranian connection' in the attack presumably implemented by the Teheran sponsored Hezbollah terrorist group with local support in Buenos Aires.
Since 2006, the Argentine courts have demanded the extradition of eight Iranians, including current Defence Minister Ahmad Vahidi and former president Akbar Hashemi Rafsanjani, to face charges in the attack.
The attack, the deadliest ever in Argentina's history, followed a 1991 bombing of the Israeli embassy in Buenos Aires that left 29 dead and 200 wounded.
The Argentine delegation is headed by the attorney Angelina Abbona, who will be joined by the Deputy Foreign Minister Eduardo Zuain and Ambassador Susana Ruiz Cerruti.
The Israeli government has expressed "great disappointment" that Argentina's foreign minister had agreed to the talks with the Iranians, saying there was "no room for doubt" that Iran was responsible.