Mercosur and EU committed to continue advancing in trade and political talks
Monday, October 29th 2012 - 14:16 UTC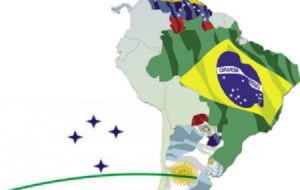 The Brazilian Foreign ministry revealed in a brief release that during October discussions between Mercosur and the European Union representatives both sides "confirmed their commitment to advance negotiations to achieve a wide ranging, balanced and ambitious agreement".
In the framework of the XXV Bi-regional Negotiations Committee, delegates from the European Union and Mercosur met in Brasília from 22 to 26 October 2012 for a round of negotiations on the future Association Agreement between Mercosur and the EU.
Both sides reaffirmed their commitment to move negotiations forward to reach a comprehensive, balanced and ambitious Association Agreement. Negotiations were held in the Political, Trade and Cooperation Pillars of the future Agreement.
With regard to the Political and Cooperation Pillars, the extensive discussion that took place allowed for progress in a number of articles and a better understanding of each party's positions. Parties were able to find common basis for future discussions.
With regard to the Trade Pillar, several Working Groups met and continued their work, clarifying positions and presenting new proposals. Progress continued to be registered in several Working Groups, in particular Services and Establishment, Services and Investments, Customs, Trade Facilitation and related matters, and Government Procurement. A constructive discussion on Trade and Sustainable Development was held at Chief Negotiators' level, leading to a greater understanding of respective positions.
Chief Negotiators agreed that the Mercosur-EU Ministerial Meeting, to be held in parallel with the CELAC-EU Summit in Santiago, Chile, in January 2013, could provide an important opportunity for guidance on the next steps of the negotiations.
In related news it was announced that Japan will hold its first dialogue with Mercosur in Brazil this week in a bid to boost economic ties with the five-nation South American trade bloc.
The Japanese Foreign Ministry said dialogue, to be held Thursday, was proposed in June 2011 by then-Foreign Minister Takeaki Matsumoto in hopes of exploring the possibility of setting up a free-trade agreement with Mercosur.
The Japanese delegation will be headed by Akira Yamada of the ministry's Latin American and Caribbean Affairs Bureau, and include members of the Foreign, agriculture and trade ministries as well.

Categories: Economy, Investments, Politics, Argentina, Brazil, Latin America, Mercosur, Paraguay, Uruguay, Venezuela, Unasur.