ARA Libertad retained in Ghana has cost Argentina almost 3m dollars
Tuesday, October 30th 2012 - 07:30 UTC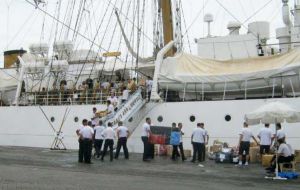 The Argentine navy flagship ARA Libertad impounded in Ghana by US investment funds since 2 October has cost so far over 2.6 million dollars, half of which for the repatriation of the 281 cadets and crewmembers, according to Argentine naval and diplomatic sources quoted in the Buenos Aires media.
The Air France charter was not cheap: the contract started to click from the moment the aircraft took off for Accra from wherever she was, and then nine hours to Buenos Aires, and the return to origin.
Furthermore several containers with the crew and cadets' belongings had to be contracted.
The daily cost of servicing ARA Libertad is in the range of 50.000 dollars, although since most of the 325 naval cadets and personnel left and only the captain and 44 sailors remain on board, the bill should have dropped considerably.
Another additional cost is the docking rent, estimated at 3.000 dollars per day, and which should have gone down because the Tema port authorities requested the vessel be moved to a secondary jetty since it was taking up much needed commercial space.
However Argentina refused and the discrepancy is estimated will be part of the litigation.
"Argentina currently is not paying that fee. If it wins the court case and the vessel has to be released there will be no cost and Argentina most certainly will begin a compensation demand against Ghana" anticipated Argentine diplomats.
Furthermore the Navy has to ensure the cadets complete their pending two months training before their graduation that will inevitably become an unforeseeable cost.
Apparently ARA Libertad has 45 days of fuel for the generation of on board power and sufficient food for over a month.
However there was a dispute with local port authorities regarding bunkering which according to Argentine sources, on Accra court orders was not allowed. Tema port authorities deny any impediment to load fuel.