Buenos Aires collapses under intense rains and winds: two dead
Tuesday, October 30th 2012 - 07:03 UTC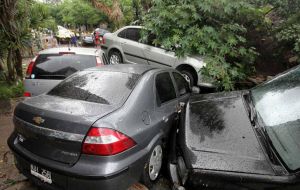 Intense heavy showers and winds hit Buenos Aires City and the province of Buenos Aires leaving two dead and several injured at Greater Buenos Aires, while thousands were evacuated due to the floods and power outages in many neighbourhoods.
A woman died electrocuted while a 76-year-old man drowned in the midst of the morning showers after being unable to leave his flooded house.
Meanwhile, the Buenos Aires province's Social Development Ministry reported almost 1.800 people were evacuated in Buenos Aires province after the heavy storms led to floods.
According to the official statement, there were 1.795 evacuees by Monday afternoon. It has been raining for almost 24 hours in Argentina's capital and surrounding areas.
In some neighbourhood Buenos Aires City neighbourhoods at least 200 mm poured down between 5 and 7am Monday morning. Roads with flash floods piled parked cars while others were taken by the strong currents.
Airports' activities were delayed, most subways services cancelled, some train lines suspended and buses were working with emergency services. Most flooded areas also suffered power outages.
Authorities also warned drivers to avoid main routes and highways as they were flooded, in some cases with up to 40 mm of water, and collapsed with traffic jams of up to 45 minutes. Strong winds knocked down power poles, trees and street lights.
Argentina's National Weather Forecasting Service (SMN) set a new alarm for heavy showers as well as hail to hit the entire City and Río de La Plata areas. Likewise, the alert reaches the North and center regions of Buenos Aires province, south and center areas of Córdoba province, Northwestern La Pampa, and Southern Santa Fe and Entre Rios.