Petrobras confirms: no fuel price increases in the immediate future
Tuesday, October 30th 2012 - 07:11 UTC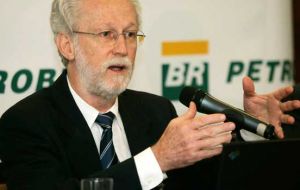 Municipal elections are over and the Brazilian government had a good performance at the polls having recovered among others the City of Sao Paulo, but contrary to investors' expectations, the country's oil and gas corporation Petrobras will not be hiking gasoline prices in the immediate future.
The company's chief financial officer, Almir Barbassa, said that while he recognized that prices should go higher at the pump, they're not getting raised anytime soon.
"There is no date set for a price increase" Barbassa told Folha de São Paulo reporters in Rio de Janeiro on Monday.
There is also the issue of the foreign exchange rate between the US dollar and Brazilian Real which will indeed impact the government's decision as to whether or not hike gasoline prices, since gasoline prices would increase inflation.
If the Real is going to strengthen against the dollar, that could also increase inflation. The government doesn't want to increase inflation. Furthermore the administration of President Dilma Rousseff is appealing to all tools and resources to prop the Brazilian economy and retain the level of employment. If fuel prices go up, it could have the opposite impact.
The Brazilian government is also concerned over the future direction of oil prices. If the US economy continues with its slow recovery into the first quarter of 2013, and if Europe remains a basket case next year, then oil demand will be stable and price rises will largely depend on Asian demand and Middle East stability or rather instability pitching Israel with Teheran.
Barbassa said he recognized the markets call for higher gas prices. Petrobras subsidizes gasoline prices as it is, and that hurts the company's profitability. Equity analysts are unable to calculate what Petrobras can earn from gasoline sales because it has to assume low returns due to the subsidy, even if world oil prices are rising.

The market was hoping for a 15% price increase this year, but they will have to wait.