Mexican president-elect pledges a tax reform bill in his first year in office
Thursday, November 1st 2012 - 07:00 UTC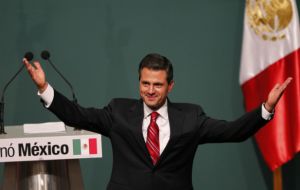 Mexico's president-elect, Enrique Peña Nieto, will present a tax reform bill during his first year in office, his top aide said on Tuesday, without providing any details on the plan.
Peña Nieto will bring his Institutional Revolutionary Party (PRI) back to power after 12 years on the sidelines when he takes office on Dec. 1. He has pledged to push for major economic reforms, including overhauls of energy and tax laws.
"It is a fact and it has been repeatedly pointed out by Enrique Peña Nieto that (fiscal reform) will be one of the reforms that is promoted at the start of his administration," said Luis Videgaray, the head of Peña Nieto's transition team.
Mexico depends on revenue from the state oil company to fund about one-third of the federal budget. Credit rating agencies have said tax reform is needed to justify a higher credit rating on Mexico's debt.
Videgaray refused to provide any details on potential tax proposals. Lawmakers in Mexico's divided Congress have battled over extending the country's value-added tax to food and medicine during the last 12 years.