September industrial production down 1% in Brazil; 12.4% in nine months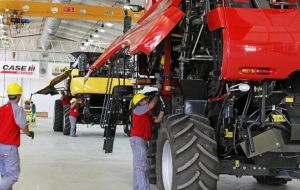 Industrial production in Brazil contracted more than expected in September. According to a release from the government stats office IBGE output from Brazilian factories and mines shrank 1% in September from August on a seasonally adjusted basis.
Production of capital goods including machinery and transport equipment, which were most heavily hit during the recent economic slowdown, shrank 0.6% for the month, the IBGE said, contributing to a 12.4% decline in the year to date.
Despite September's decline, private data on Thursday suggested manufacturing could recover next month. The HSBC Purchasing Managers' Index for the Brazilian manufacturing sector rose to 50.2 in October from 49.8 in September, the first time since March the index rose above the
50 mark that divides expansion from contraction.
Also, a measure of business sentiment within the industrial sector rose in October to its highest level since June 2011, Getulio Vargas Foundation said earlier this week, fuelling hopes of a gradual recovery in private investment in the months ahead.
Manufacturing had been at the heart of Brazil's recent economic slowdown as the sector struggled with high labour costs, weak demand from abroad and low levels of investment.
In response, President Dilma Rousseff's administration has showered industry with stimulus measures over the past year, including ten consecutive interest rate cuts, higher import barriers and billions of dollars in tax reductions.
While those measures helped lead to short-term increases in auto production and domestic consumption, some analysts say they may not be enough to get industry back on a strong footing.