Falklands commemorates anniversary of the war and Remembrance Sunday
Monday, November 5th 2012 - 19:55 UTC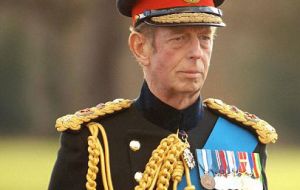 A 'Short Service of Thanksgiving and Commemoration on the Thirtieth Anniversary of the Liberation of the Falkland Islands' will be held on Saturday 10 November at the Liberation Monument in Stanley in the presence of HRH The Duke of Kent and returning veterans of the 1982 war.
According to the program from Gilbert House, the Band of the Royal Marines Scotland will assist and it is planned that the names of all military and civilian personnel who died during the war will be read by members of the Falkland Islands community.
Immediately following this service all members of the public are invited to a civic reception to be held in the Town Hall from 1900hrs to 2200 hrs.
On Sunday 11 November 2012, Remembrance Sunday there will be a Memorial Service in Christ Church Cathedral with the attendance of the Duke of Kent KG, the Falklands' Governor, Commander British Forces, FIG invited guests; Mark Lancaster MP, Kevan Jones MP and Lt Col (Rtd) Tony Davies OBE, Members of the Legislative Assembly, visiting and resident South Atlantic veterans, together with Senior Officers of the Armed Services.
The Service will be led by the Rev Dr Richard Hines and other local ministers. The Band of HM Royal Marines Scotland will provide musical accompaniment. During the Service a collection will be made for the Poppy Appeal. Seating in the Cathedral will be on a first come first served basis.
At 10.20 am Guard Detachments representing the Royal Navy, Army, Royal Air Force and a Detachment from the Falkland Islands Defence Force will form up on Ross Road. The Band of HM Royal Marines Scotland will lead the parade. They will be joined by Veterans and Associations and begin their march to the Cross of Sacrifice at 10:25 am. Youth organisations will be present at the Cross of Sacrifice.
At 10.48 Am the Duke of Kent, Governor Haywood, a Member of the Legislative Assembly and the Commander British Forces will arrive at the Cross of Sacrifice.
A short service will then be held and the Roll of Honour read out.
There will be two minutes silence at 11.00 am marked by the firing of the saluting guns on Victory Green.
The Duke of Kent, MLA Dick Sawle, the Commander British Forces, and FIG official guests will lay wreaths, followed by representatives of the Armed Services, Falkland Islands Defence Force, the Royal Fleet Auxiliary and the Royal British Legion.
Gilbert House points out that it is an important public occasion and it is hoped that as many members of the community as possible will attend this observance ceremony and play an equal part in honouring and remembering all those who have given their lives for the peace and freedom the Falklands enjoy today. It is appropriate for medals to be worn on this occasion. (PN)