Son of Falklands' war hero will take command of British troops in Afghanistan
Monday, November 5th 2012 - 19:38 UTC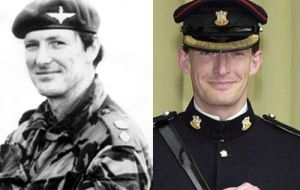 The son of Falkland Islands war hero Colonel 'H' Jones is to take command of Britain's 9.000 troops in Afghanistan, reports the Daily Mail. Brigadier Rupert Jones was 13 when his father died during a one-man charge on an Argentine trench in the Battle of Goose Green in 1982, for which he was posthumously awarded the Victoria Cross.
Now 42, he will be in charge of 1 Mechanized Brigade when he arrives in Helmand province in April. The job comes at a difficult time as Taliban insurgents are expected to intensify attacks on British forces who are preparing to leave the country by the end of 2014.
Colonel Jones was also 42 when he was cut down by enemy fire while commanding 2 Battalion, The Parachute Regiment. His valor helped inspire his troops to victory in the offensive on the Argentine stronghold. His son joined the Army eight years later but he has insisted he always knew he was going to sign up.
'I was shaped by my father while he was alive. I was always going to join the Army and I don't even remember making the decision to join – it was always going to happen,' he once said.
He trained at the Royal Military Academy at Sandhurst before serving with his father's former regiment, the Devonshire and Dorsets.
Colonel 'H' Jones's elder son, David, also joined the Army but later became a businessman. His widow, Sara, 71, was appointed a CBE for her services to forces charities. Last night she said: 'One is proud of one's son', but declined to comment further except to say Rupert 'just wants to get on with his job'.